Note: If you're viewing on the support chat widget, we recommend you click the expand icon
on the top right corner, for better viewing experience.
Introduction
We are delighted to announce the release of the all-new Financio v3.0.0. This new release paves the way for many exciting new features and enhancements, as well as a significant facelift that promises a better user experience. Read on and find out more about what's new in this release.
Compatibility
These features and enhancements have been tested and make available on the following product plans: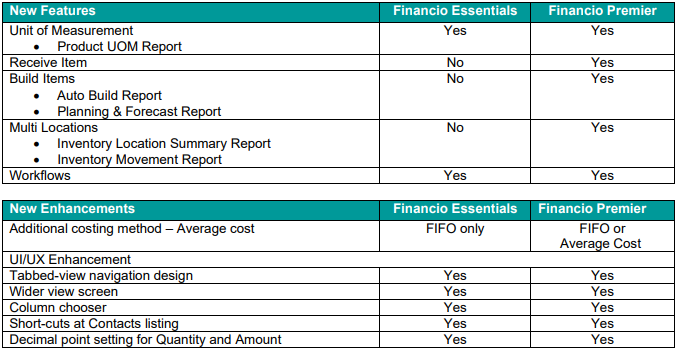 1. New Features: Unit of Measurement (UOM)
Financio now supports multiple product units of measurement (UOM). You can now configure and set various units of measurement of each product the way you want them to be.
Once configured, the system will automatically display the relevant pricing when you purchase, stock or sell. No more tedious manual calculation and avoid discrepancies in your inventory record.
With this new feature added, we have created the Product UOM Report as a new addition to the existing list of reports. This report shows selling and buying details of your products by UOM. Tie your units of measurement to prices and cost. Keep track of all your units with confidence today!
Click here to learn how to use the UOM, or click here to learn how to generate the UOM report.
2. New Features: Receive Items
Keep track of your stock inventory alongside your purchases. With this easy-to-use feature, you can quickly update your goods received into your inventory. Streamline inventory maintenance to boost functionality, manage all your stocks and purchases records with one solution and get a holistic view from the available reports. Click here to learn more.
3. New Features: Build Items
The Build items is a feature that enables you to combine two or more items, known as components, to make up another item, known as a finished item. In this item assembling process, the system will transfer the inventory quantities of the components to that of the finished item. For example, a bike manufacturer will have many components to build a bike, such as seats, tyres, brakes and pedals. This feature enables businesses to easily keep track of inventory of finished goods and the components too.
This feature supports the assembling and dissembling of finish items. For items that you repeatedly build, you can use the Auto‑Build list to manage the finished items. Read the guide to learn how you can use this feature. With this, we have added two new reports for your convenience.
Auto Build Report
Planning & Forecast Report
4. New Features: Multi Location
When you're managing stock across multiple locations, there are multiple chances for things to go wrong. With Financio smart, multi-location functionality, you can stay on top of your stock levels at all times.
Make your inventory go further, ensure you have optimal levels of the right stock in the right location at the right time. This feature offers a new level of transparency and helps you make more informed inventory management and purchasing decisions. Find out more about how you can use the Multi Location feature. With this, we have added two new reports to aid your tracking and planning process.
Inventory Location Summary Report
Inventory Movement Report
5. New Features: Workflows
Workflows is a diagram flow chart on your dashboard that illustrate the proper flow of all major modules. Namely, Sales, Purchase, Banking, Tax and Inventory. Existing or new users can quickly get started with this straightforward visual guide. The newly designed workflow allows greater flexibility with fewer clicks resulting in faster transaction speed too. Click here to learn more.
1. New Enhancement: Additional costing method – Average cost
Financio now supports two costing methods of stock inventory management.
First In First Out (FIFO)
The concept of the FIFO method assumes products are sold in the order they're added to the inventory. Meaning, first products in stock are the first to be sold. The costs paid for those oldest products are the ones used in the calculation. This method best suits businesses such as restaurants, bakeries and butchers because the products have a shelf life.
The average cost concept uses a weighted average to track inventory. With this method, you use a pool of cost for all units of a particular stock keeping unit. Any purchase is added to the pool of cost, and the pool of cost is divided by all units you have on hand.
Choosing the right inventory costing method helps you calculate the most accurate inventory cost to deduct from your taxable income, and empower you to make more informed business decisions. Learn more here
2. New Enhancement: UI/UX Enhancement
Financio had a significant facelift which gives you a better user experience. The workflow has been redesigned alongside the all-new UI/UX enhancement to allow greater flexibility with fewer clicks. As a result, you can get work done faster too.
Tabbed-view navigation design
Are you tired of a single view of a module/function screen at one time? We hear you. Financio now allows multiple tabs at any time of usage. You can easily jump to your target screen quickly and swiftly. Find out the differences here.
We have moved the menu from the left to the top of the screen and free up some space to give you a wider and spacious workspace. Moving through the user interface, switching between functions and features now requires minimal effort. Find out the differences here.
Viewing table with too many fields? No problem, choose and pick only to display only the columns you want to see. This helps to simplify data entry and reduce human error. Click here to find out more.
Short-cuts at Contacts listing
On the Supplier Contacts listing screen, simply create a purchase record from there without switching module/screen. You can even view a specific report just by selecting a particular supplier contact from the list. Click here to learn more.
Decimal point setting for Quantity and Amount
Prefer to manage your account with more than two decimal points? Simply set the desired decimal points at the Business Setting screen. Get a more accurate costing and quantity measurement base on your business requirements. Read more here: MY version, SG version.
Log in to your Financio account and check out the new look today.