Note: If you're viewing on the support chat widget, we recommend you click the expand icon on the top right corner, for a better viewing experience.
You are now only 7 simple steps away from automating your day-to-day business transactions! Do follow the steps carefully to ensure all the reports generated reflects accurately.
But not to worry, you are always free to come back and update the details while you are running your business.
7 Steps Business Setup
There're two ways to set up your business account:
Setup Business Wizard

Update Manually
Setup Business Wizard
Right after you signup / created a new business, you will be prompted to go into the setup wizard. To start the process, simply click on Setup Now.

Step 1: Business Settings
You will be asked to update the Financial Start Date and the First Financial Year Period.
Financial Start Date: The date you want to start using Financio to track your transactions from.
First Financial Year Period: You can choose maximum of up to 18 months for the first financial year period. Otherwise, you can leave it as default for 12 months.
First Financial Year End Date: Auto-generated based on the first financial year period chosen.
Next, select the preferred Costing Method.
First In First Out (FIFO) – The concept of the FIFO method assumes products are sold in the order they're added to the inventory. Meaning, first products in stock are the first to be sold. The costs paid for those oldest products are the ones used in the calculation. This method best suits businesses such as restaurants, bakeries and butchers because the products have a shelf life.

Average cost– The average cost concept uses a weighted average to track inventory. With this method, you use a pool of cost for all units of a particular stock keeping unit. Any purchase is added to the pool of cost, and the pool of cost is divided by all units you have on hand.
Then, you will be asked to select the Preferences which consist of Alert Setting and Decimal Point Setting.
View the video tutorial here.
Multi-currency feature is only available on Financio Premier.
By default, the home currency of your business account will be set as the default currency of the country. For example:
SGD: Singapore
MYR: Malaysia
HKD: Hong Kong
However, you can also add additional currencies if your business transacts in more than one currencies.
To add new currencies, click on Add New, select the currency and click Save.

View the video tutorial here.
Step 3: Tax
Financio provides built-in support for Singapore based businesses which are GST-registered. You can activate it by click on Add New, then fill in the following information.
Type: Select GST

Effective (Start) Date


Note: The date that you became GST registered entity and start collecting GST, this date cannot be changed once set.

Filing Frequency


Note: How frequently do you do GST filing to the local tax authority? Common ones are Quarterly/ Monthly.
CA Statement

Regulation 34 business (

Applicable for financial services business only)
Additional Resources:
View the video tutorial here.
Step 4: Chart of Accounts
The Chart of Accounts is a list of accounts that records and organizes your business's transactions. It is made up of two areas:
Balance Sheet Accounts: Record what your business owns and what it owes.
Profit & Loss Accounts: Record how much money your business took in and how much money it spent.
To add a new account/category, simply click on Add New Balance Sheet Accounts or Add New Profit & Loss Accounts.
To update any existing accounts, just click on the View >Edit button at the action column beside the account/category.
Still unsure? Learn more about Chart of Accounts here.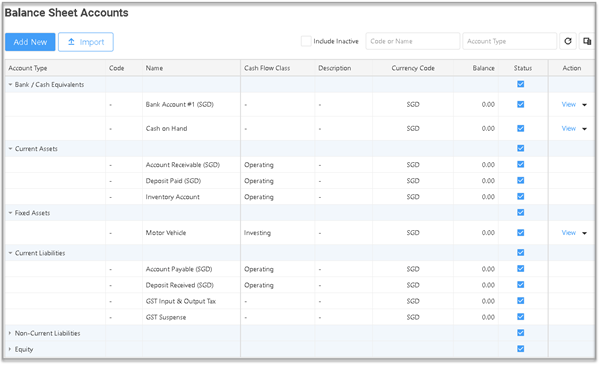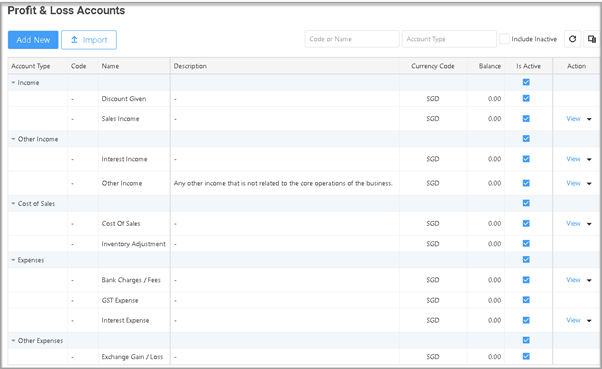 View the video tutorial here.
Step 5: Opening Balances
If you are moving away from another accounting software, or you have the closing/opening balance of an existing business. You will want to put in the opening balances based on the system start date that you provided earlier.
Note: If you are a new business with no prior accounts, you may skip the opening balances.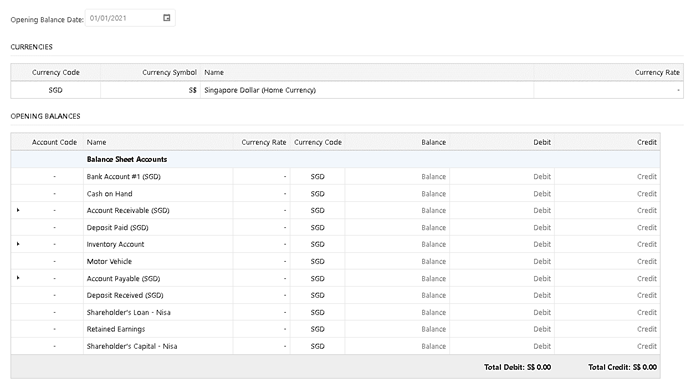 View the video tutorial here.
This is an important step to provide some information to the system so that your invoice will appear nicely with your information on the first page.
You can proceed to add the following information:
Name*

(UEN for Singapore)*

GST No. (If applicable)

Tax reference no.

Phone No.

Default accountant code

Business Logo

Contact person

A Primary Address

View the video tutorial here.
Step 7: Integrated Apps
Once you are done, click Complete Setup.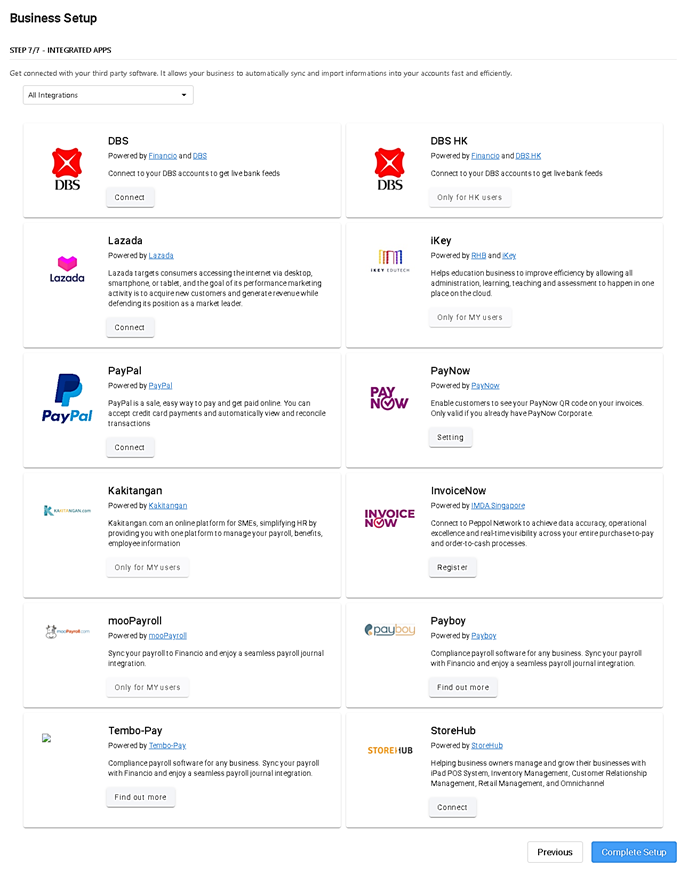 View the video tutorial here.