Note: If you're viewing on the support chat widget, we recommend you click the expand icon on the top right corner, for better viewing experience.
Introduction
What is Bank Feed? - In simple terms, bank feed is an integration that allow banks to feed banking related information to third party solution providers.
How does Bank Feed simplify my work? - By connecting your Financio account with your DBS online banking account, you will no longer need to go through the hassle of login on to both platforms just to review your bank balances and bank transactions. Instead, you'll be able to view all these info directly on Financio!
*All transactions & bank balances are updated daily automatically at 9am.
With your bank transactions and bank balances populated in your Financio account, you'll also be able to reconcile your bank balances with your accounting balances quicker and more accurately.
Let's Get Started - How to Connect
Step 1
Login to Financio.
Step 2
Go to Control Panel and click on Integrated Apps.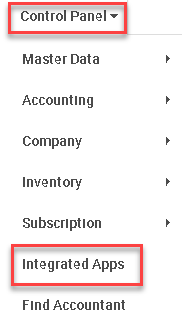 Step 3
Click Connect, on the integrated apps page.

On the next window Fill up all the columns:
Organization ID (Ex. UEN Number)
User ID (Email)
Pin (Bank Pin)
Security Access Code (CVV Code)
Click Login to Authorise 3rd party.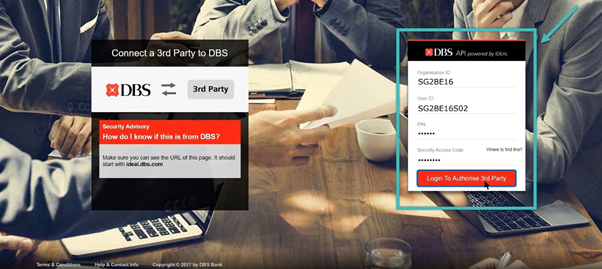 Step 4
On Financio, Click Select*. In the drop down, choose the accounting account to be linked with your DBS current account and hit Save.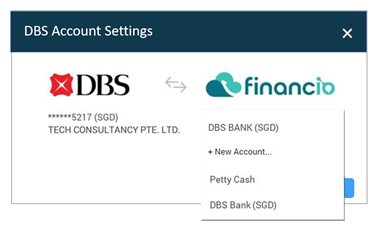 You've successfully connected your Financio account with DBS.
**Important Note
If you have connected to other accounting software previously. You will first need to disconnect the existing accounting software then connect to Financio, refer to the guide below.
Step 1: Disconnect DBS from the accounting software
Step 2: Cancel scheduled report to your accounting software within DBS IDEAL.
Step 3: Disconnect DBS in Financio & Reconnect
You can now enjoy the ease of reconciling your DBS bank transactions!