Note: If you're viewing on the support chat widget, we recommend you click the expand icon on the top right corner, for better viewing experience.
Business settings are settings related to your business account, such as:
Financial Year
Lock Period
Time Zone
Costing Method
Email Alert
Decimal Point
To set up or update your business setting, kindly follow the steps below :
Click on the Control Panel > Company > Business Setting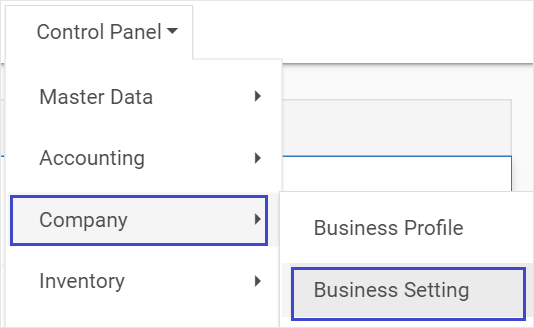 Business Setting tab created.

General Setting
Start Date

Note: Specify the date that you started using Financio to track your business transactions, leave it as the first day of your current financial year if you are not sure.

First Financial Year End

Note: Specify the last month of your financial year. For the first financial year, Financio does support financial year up to 18 months.

Period Lock Date

Turn on Lock period (Toggle) and enter the lock period if needed.

Enter your First Financial Year Period
Review your Subsequent Financial Year End
Choose your preference Costing Method.

There are 2 Inventory Costing Method available for Financio Premier Package which is:

Average Cost
First In First Out (FIFO)

Once you choose your Inventory Costing Method, it cannot be change to another method forever.
For Financio essentials, only can choose FIFO.
Review your Time Zone.
It will appear once you generate your report.
Set your Email Alert.
To get any notification email regarding Cashflow and Pending/Overdue Invoices.
Set your Decimal Point.
The decimal point will take effect for all transaction.
Click on Save.