Note: If you're viewing on the support chat widget, we recommend you click the expand icon on the top right corner, for better viewing experience.
Before configuring Singapore GST on Financio, you may want to visit the following resources for more clarification:
If you are setting up GST at a later time (after your initial 7-steps business setup), you will find this article useful. It will guide you to activate the pre-configured Singapore GST on Financio in just a few steps.
Click on the Control Panel > Master Data > Taxes

Taxes will be created in a new tab.

Click on Add New button.
Select GST from the dropdown list of the Type field.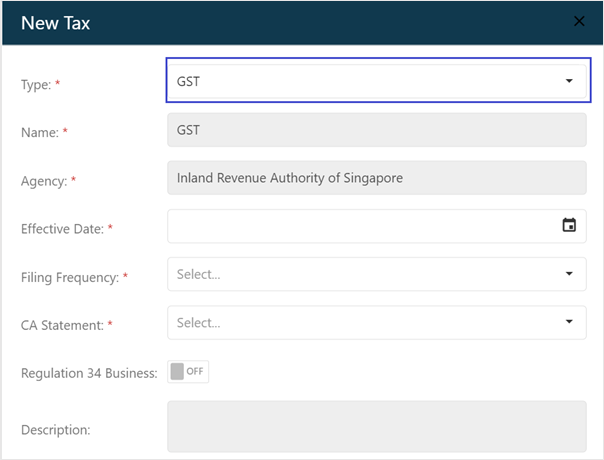 Select the Effective Date, when your business becomes tax registered and start collecting tax from your customers.

Update the Filing Frequency (where applicable).
The standard procedure is to file GST returns every 3 months (Quarterly). While you may request for monthly or half-yearly filing instead, this is subject to the Comptroller's approval.
Select your CA (Customer Accounting) Statement.

8. Regulation 34 Business toggle if this regulation is applicable for your business.
Click here for more info.
Click Save and you have already activated Singapore GST on Financio.