Step 1: Go to Settings > Accounting Link, you will be able to see there are two options where user can link Financio Payroll to either ABSS or Financio Accounting Software.
Step 2: Select the accounting system that you are currently use and click on Activate button of ABSS icon to setup the link to ABSS Accounting Software.

Step 3: Click the Continue Setup with ABSS button, you will be prompted to Accounting Link screen.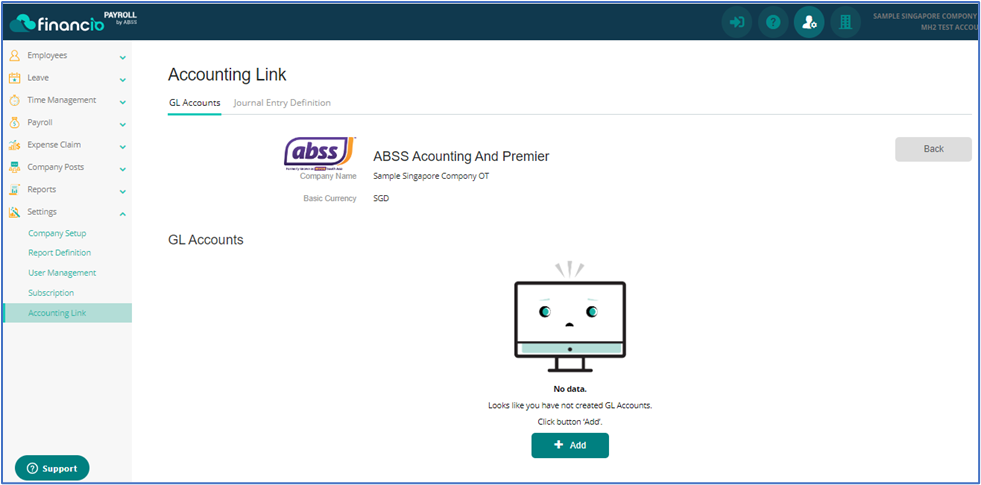 Step 4: For link up with ABSS Accounting / Premier Account, you will see the screen display with GL Accounts tab and Journal Entry Definition tab.
i) GL Accounts
First, you need to setup the GL accounts that you can link with your accounting system. Click Add button to add all GL accounts that related to payroll double entry.

Example of common use GL Accounts for Singapore: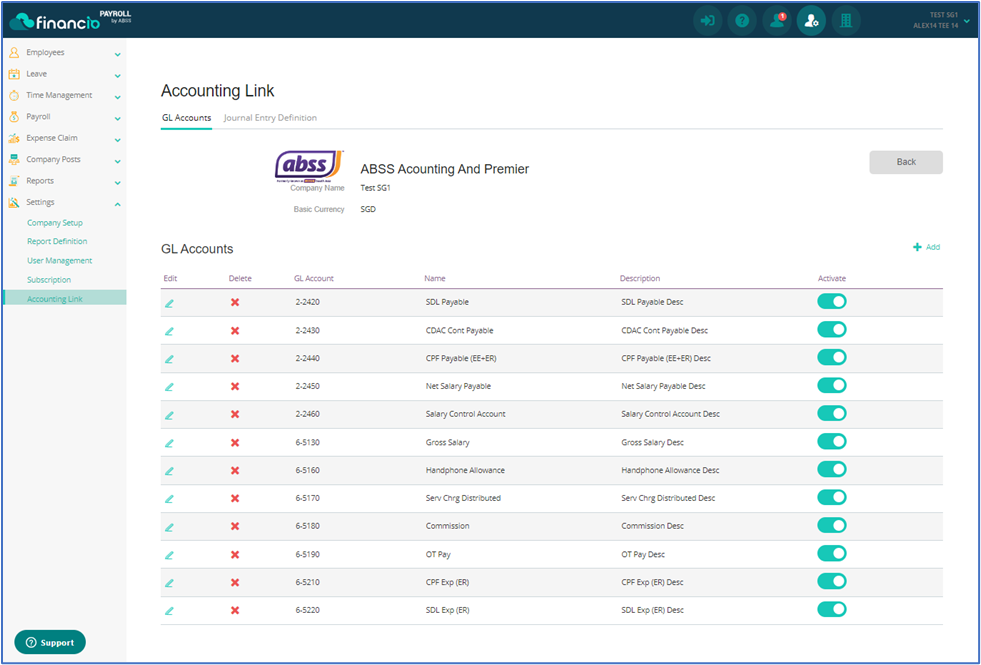 ii) Journal Entry Definition
After created GL accounts you can proceed to set the posting double entries in Journal Entry Definition screen, click Add button to create a new journal name.

iii) Add Pay Items
You can then proceed to add all payroll pay items that you used in Financio Payroll into this journal template, you only need to setup this on first time when you begin to use Financio Payroll.
To add pay Item, select the payroll items listed in below and tick the checkbox on the left side. You can select multiple pay items.
You may proceed to assign the Debit GL account and Credit GL account and saved your setting.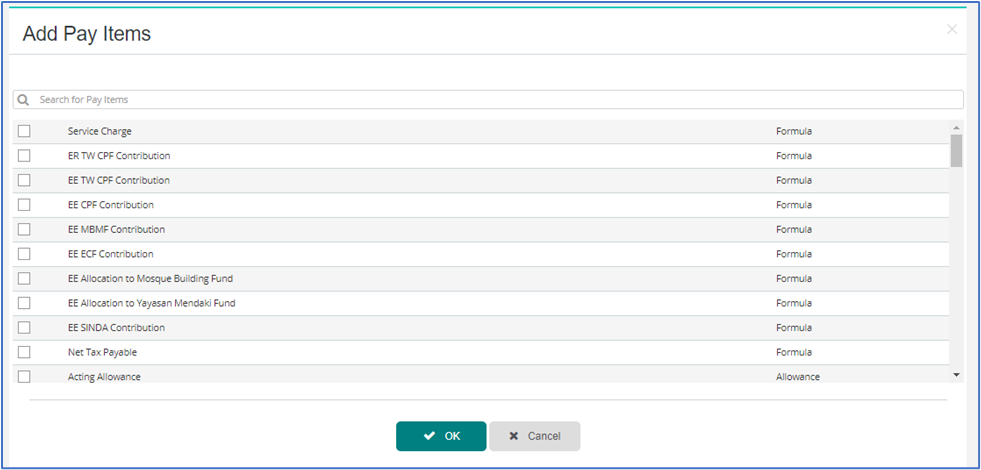 Example of Debit and Credit accounts double entries mapping for Singapore payroll journal: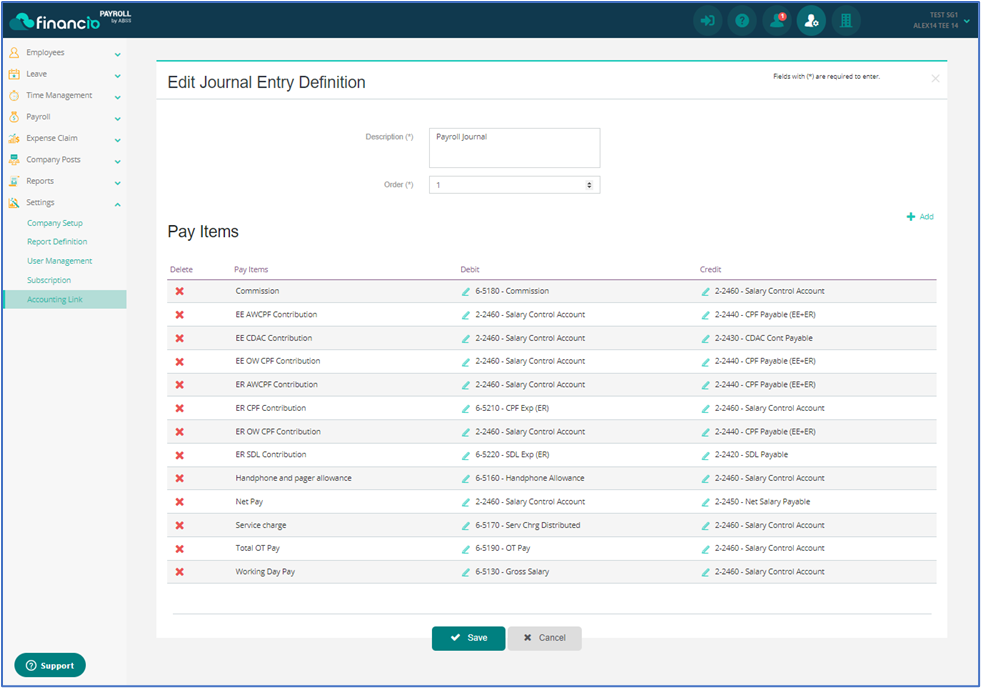 Important Note: In future, if you added new allowance or deduction into the system, you need to also update this list to ensure the double entry is balance and total salary amount is captured correctly in your journal.
Example of Accounting Link for Malaysia
Below example shows common use GL Accounts in Malaysia: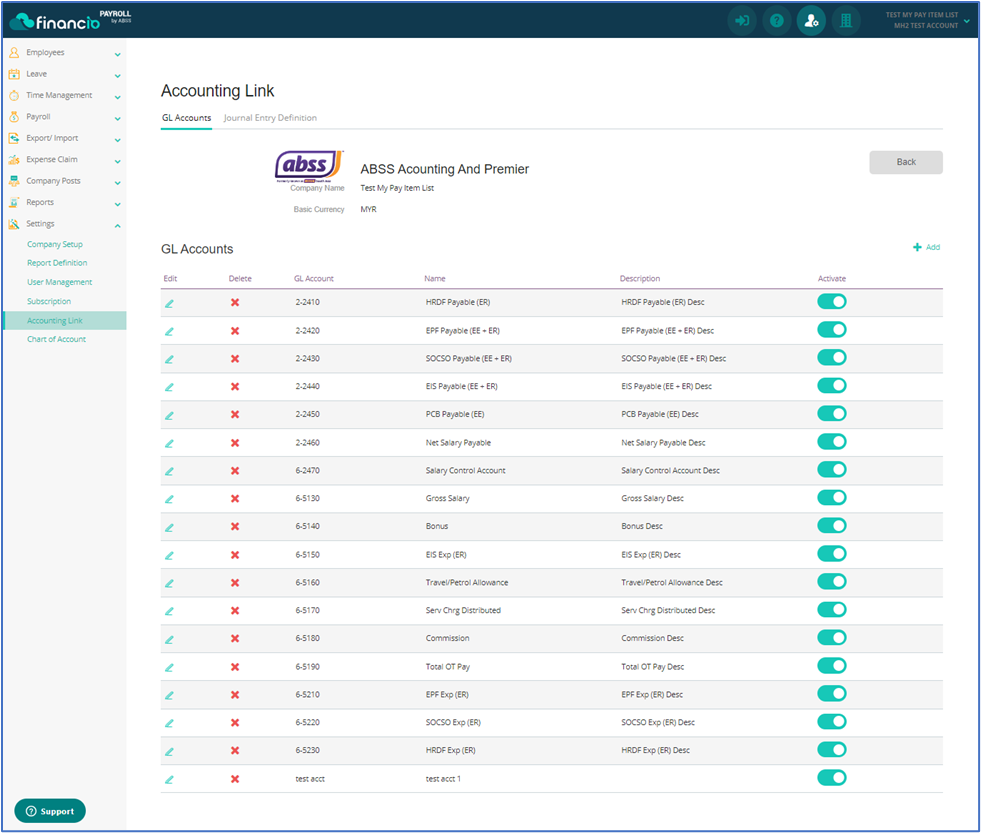 Example of Debit and Credit account double entries mapping for Malaysia payroll journal: