Introduction
It's finally here folks! Now Financio users can enjoy direct submission for GST to IRAS on quarterly returns, corrections and cancellations from Financio without having to visit the IRAS website to manually update their filings. This will not only improve your tax filing experience by speeding up the process but most importantly eliminate errors from occurring.
Other Relevant articles, (Click to Jump to topic)
What is GST F5?
Goods and Services Tax (GST) is a consumption-based tax levied on the import of goods and supply of goods and services.
As a GST registered business, you must charge and collect GST on the transaction for consumers at the applicable rate of 7% and remit it to the Inland Revenue Authority of Singapore (IRAS).
IRAS is the government's tax administrator and collects taxes that account for about 70% of the government's operating revenue.
Under rule 53 of the goods and services tax general regulations, every taxpayer registered under the GST act is required to file tax returns electronically. Such return is filed in GST F5.
How to perform GST E-submission F5 on Financio.
Step 1: Head over to GST filing,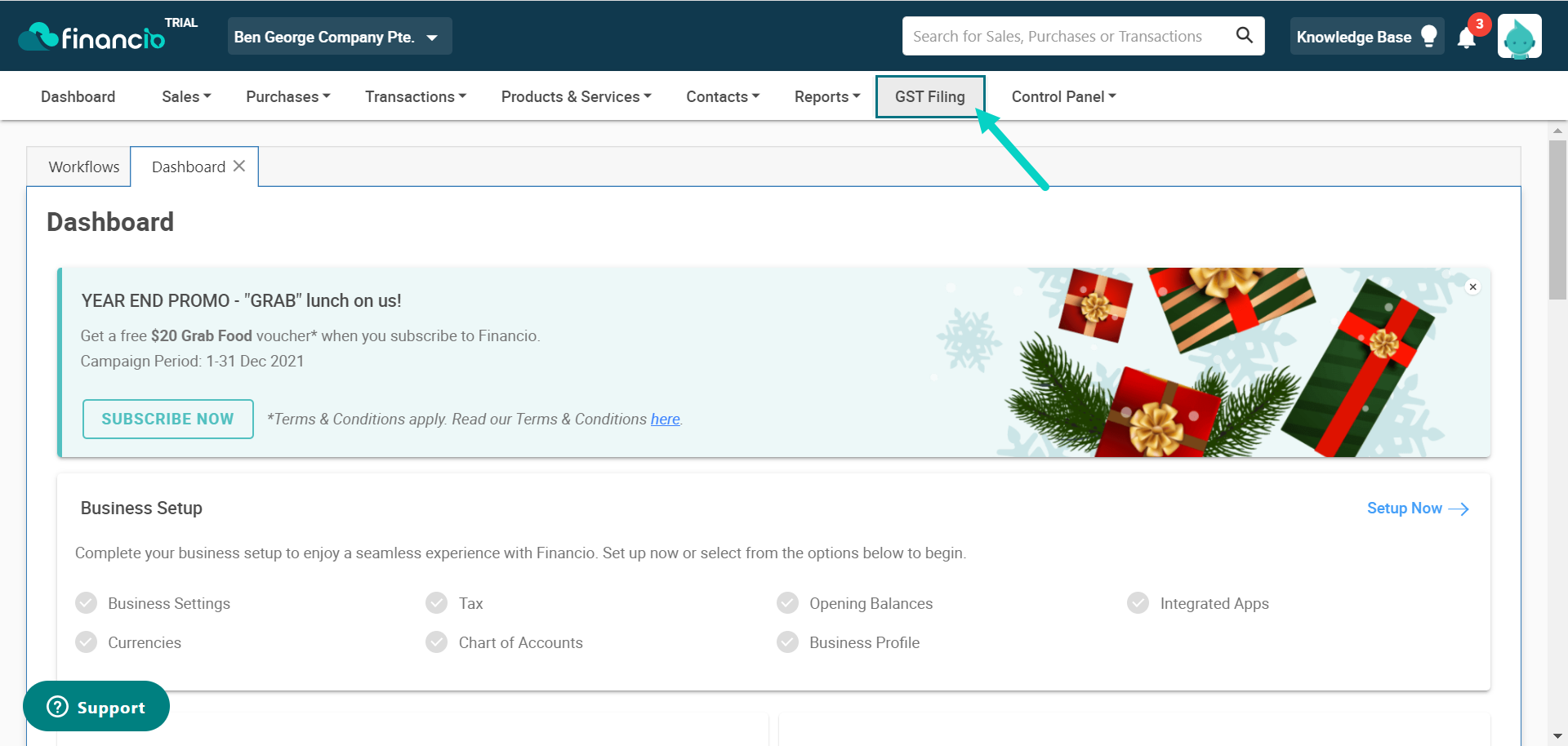 Step 2: Click on "View".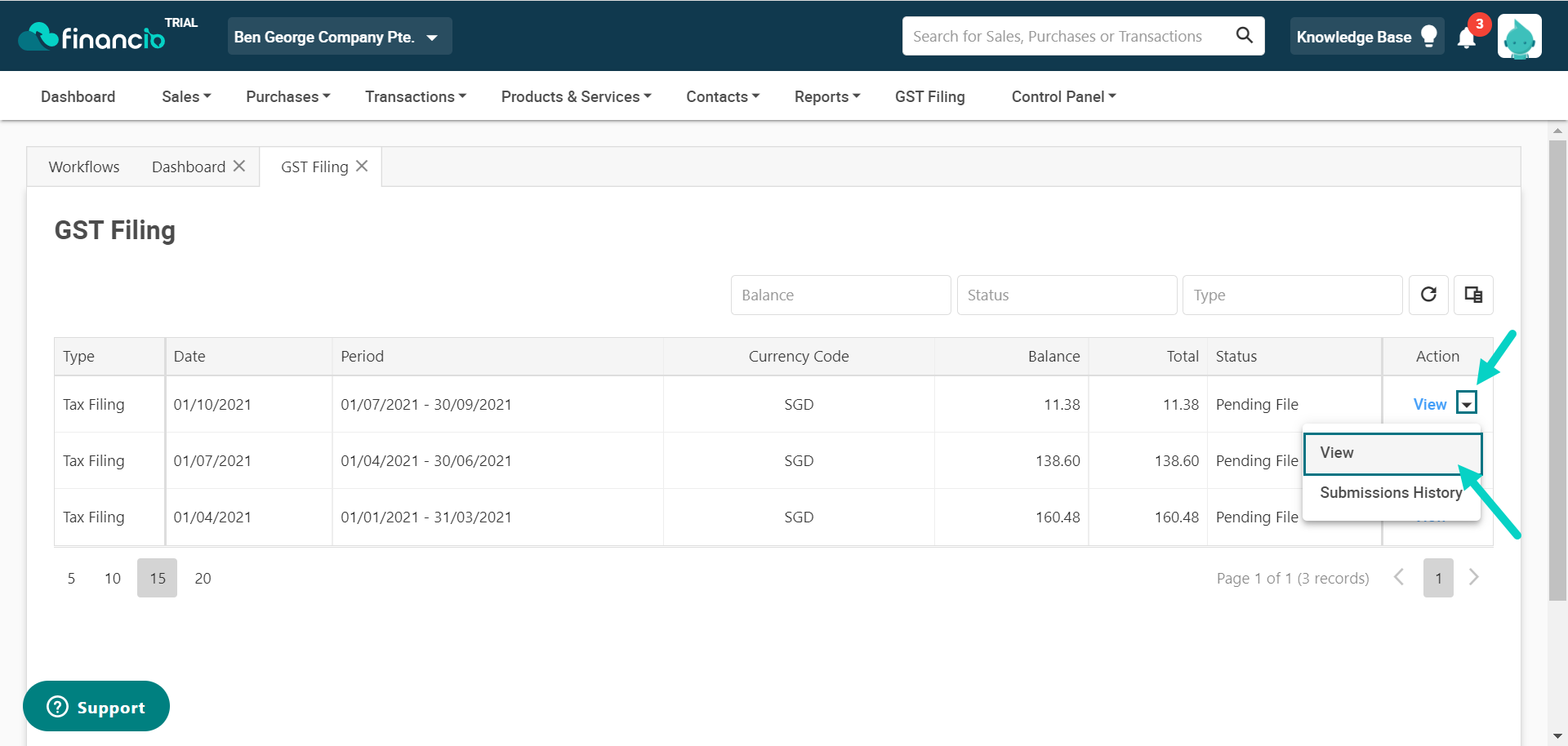 Step 3: Click on the 3 dots at the right corner of the window and select "Filing Submission".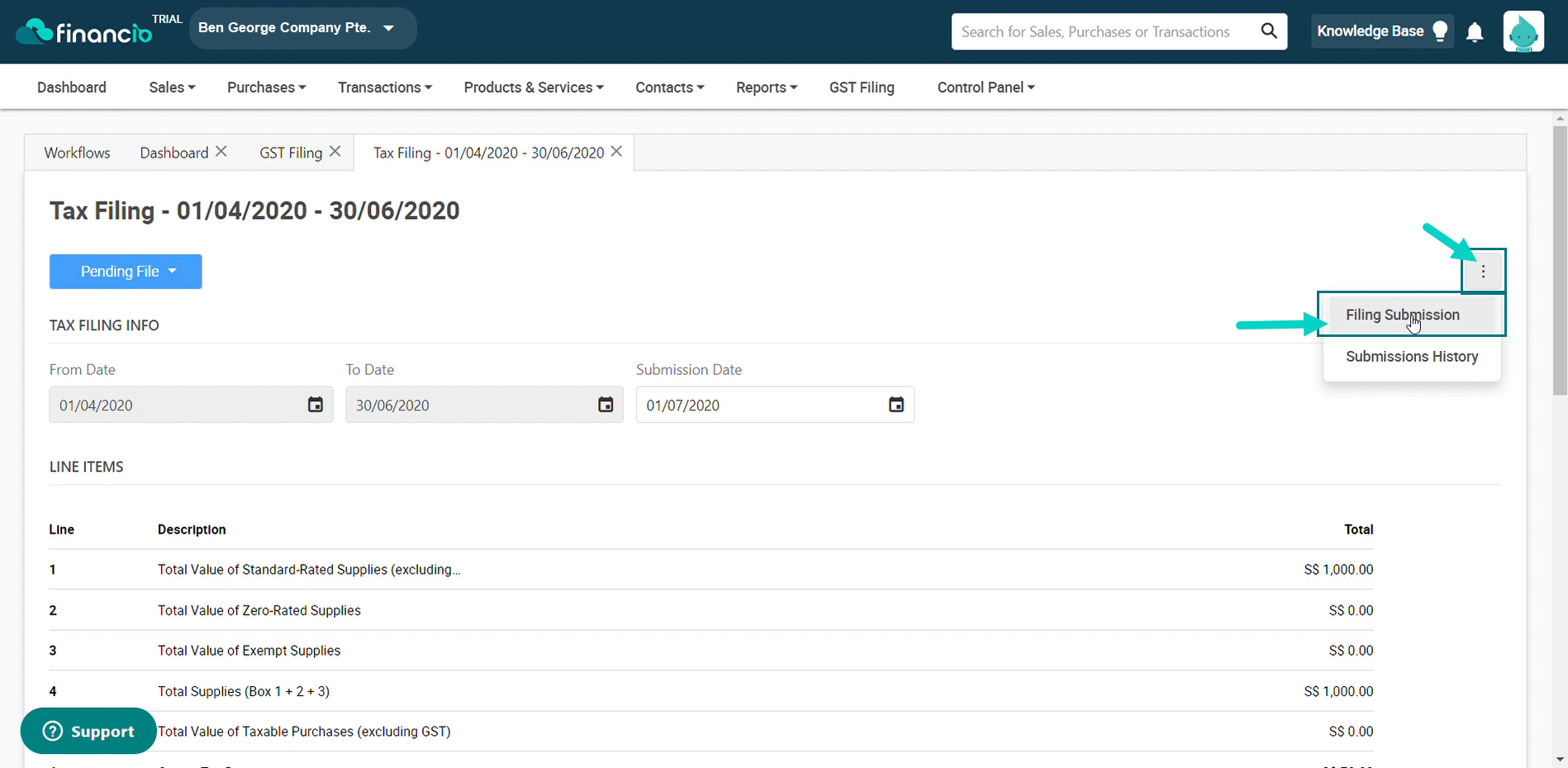 *Note that Financio would automatically detect and show you the correct form respectively for the type of submission. One way to verify this will be by looking at the header line on the screen you are on. As shown in image 1.0 below.
(Image 1.0)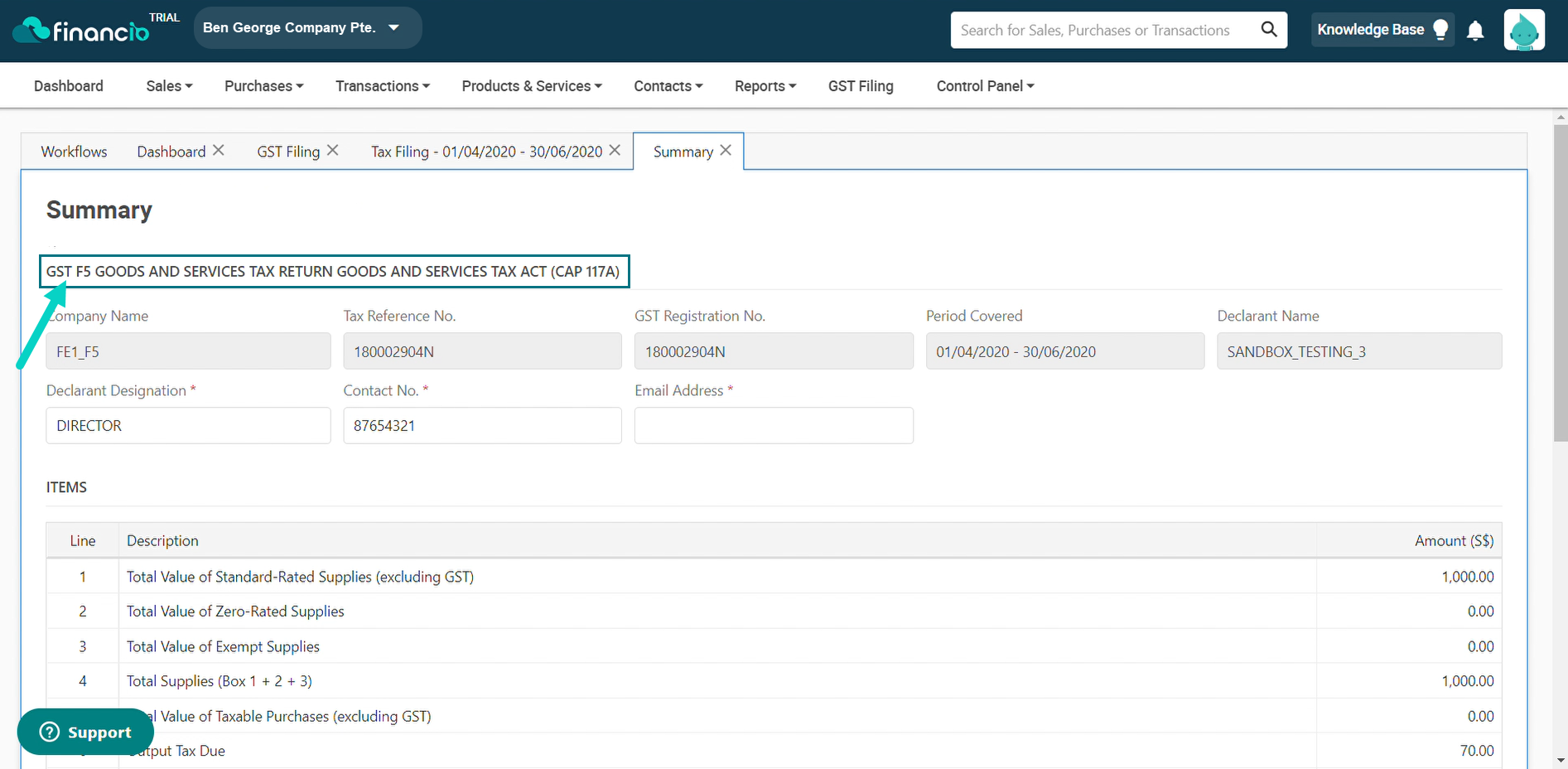 Step 4: Verify all the line items and the amounts, once done proceed to scroll to the bottom of the page and check the box for declaration then click submit.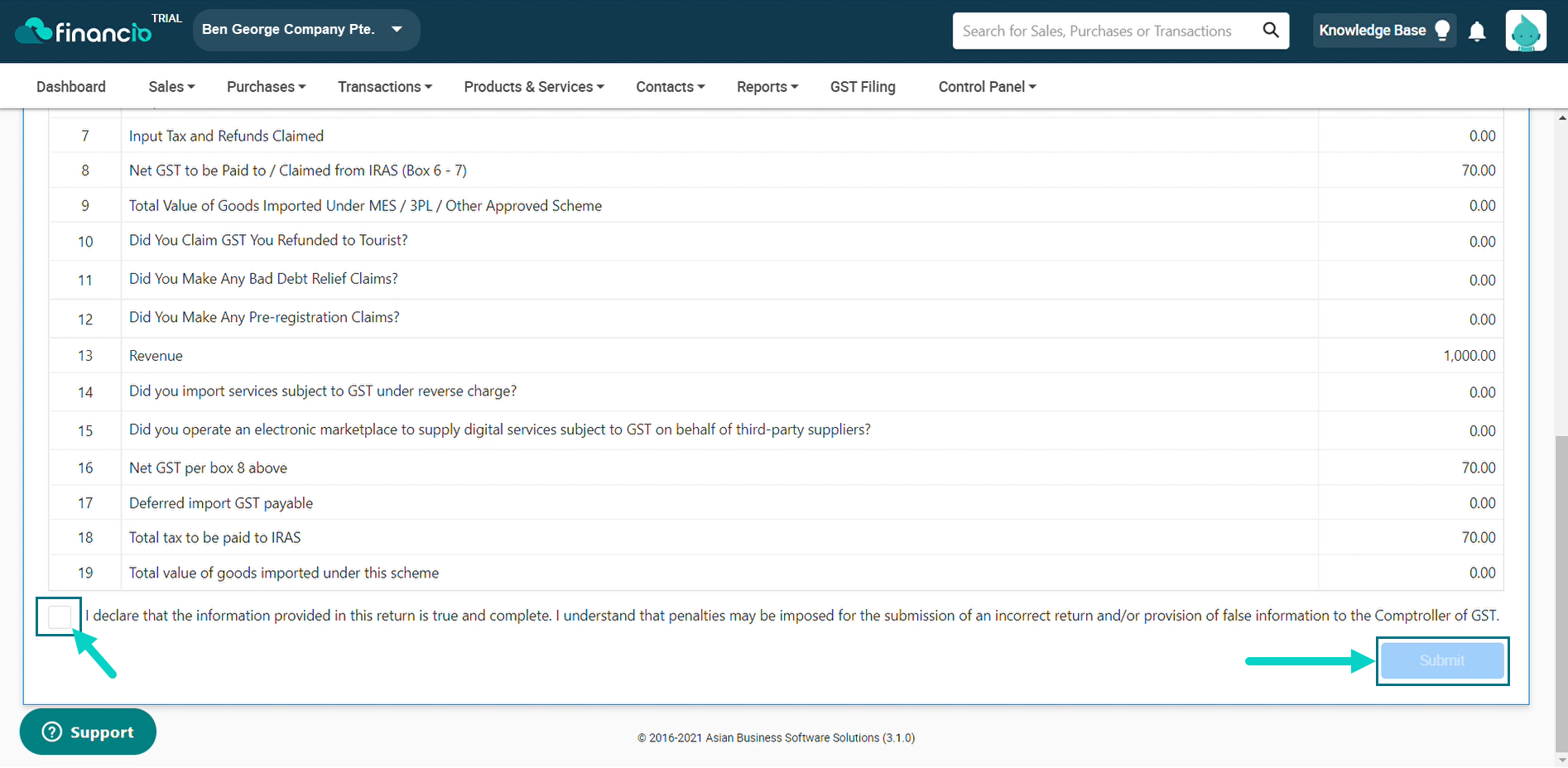 Declaration: I declare that the information provided in this return is true and complete. I understand that penalties may be imposed for the submission of an incorrect return and/or position of false information to the controller of GST.
Step 5: Once clicked on submit, Financio will redirect you to Singpass website www.singpass.gov.sg. for your authorisation to submit the filing directly to IRAS.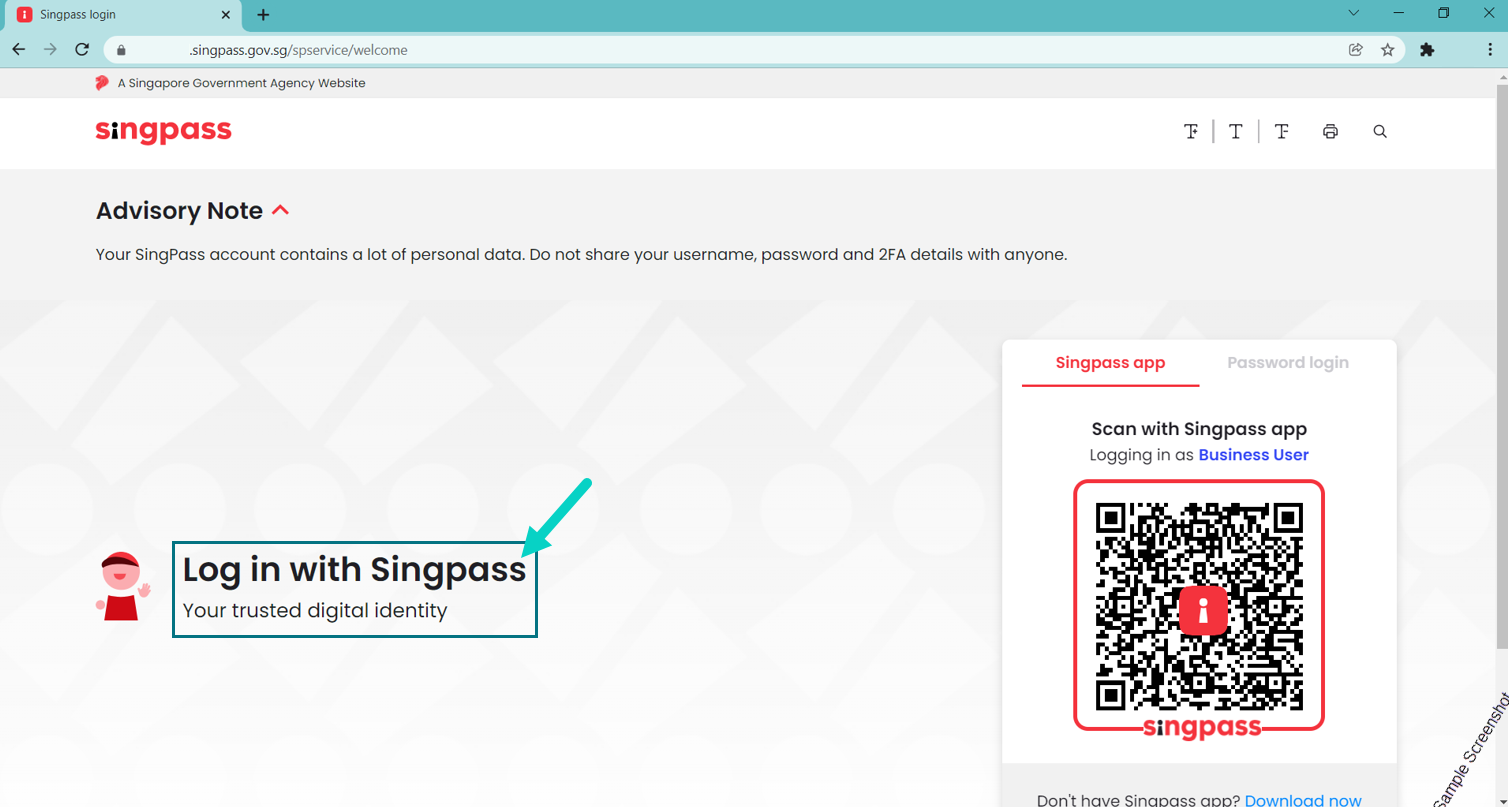 Step 6: Key in your login details and hit log in.
*Note, if you do not already have an account. "Register for Singpass" at the option below, log in and follow the necessary steps accordingly.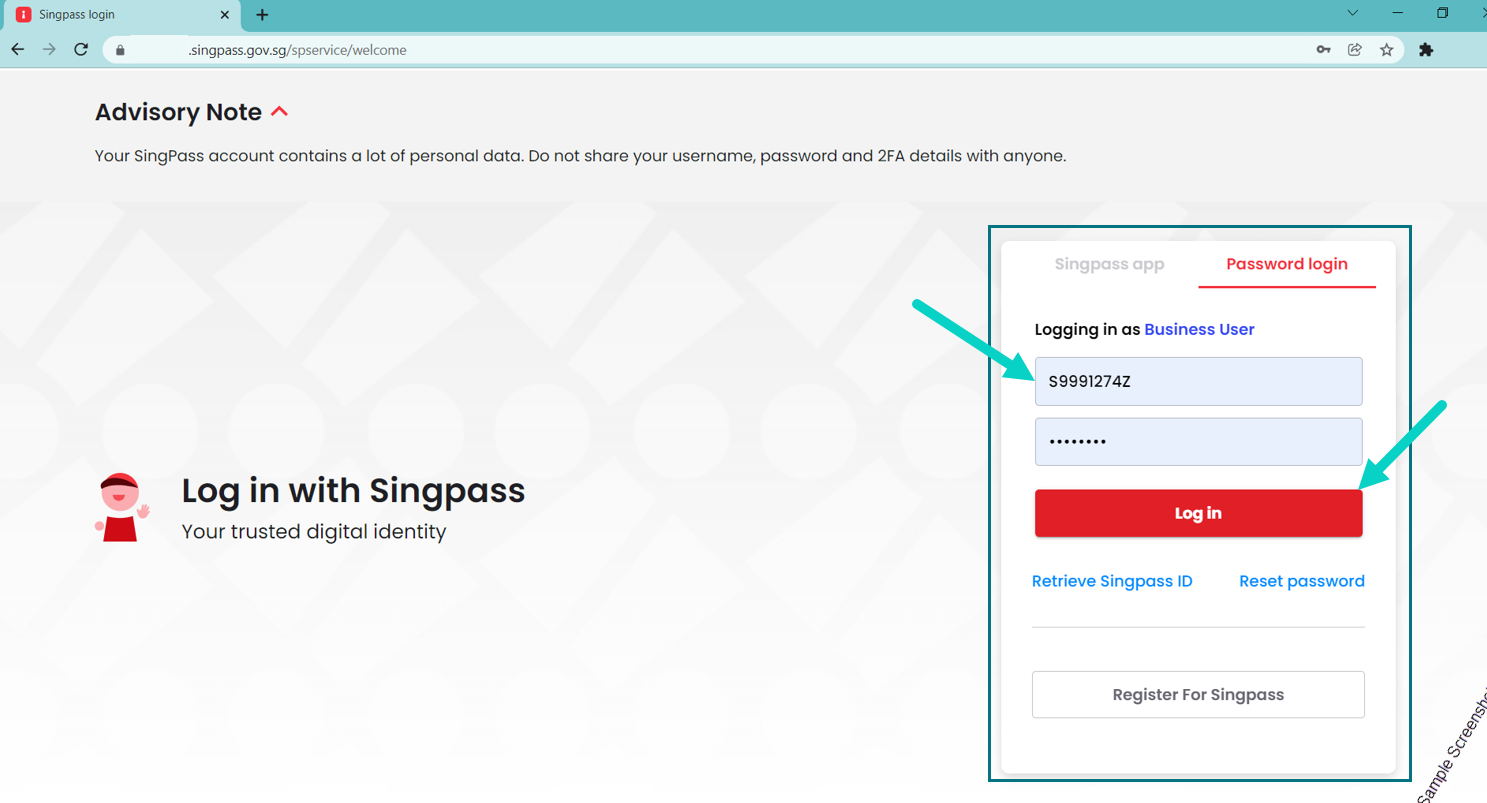 Step 7: At the next window, search for UEN/Entity ID at the search column.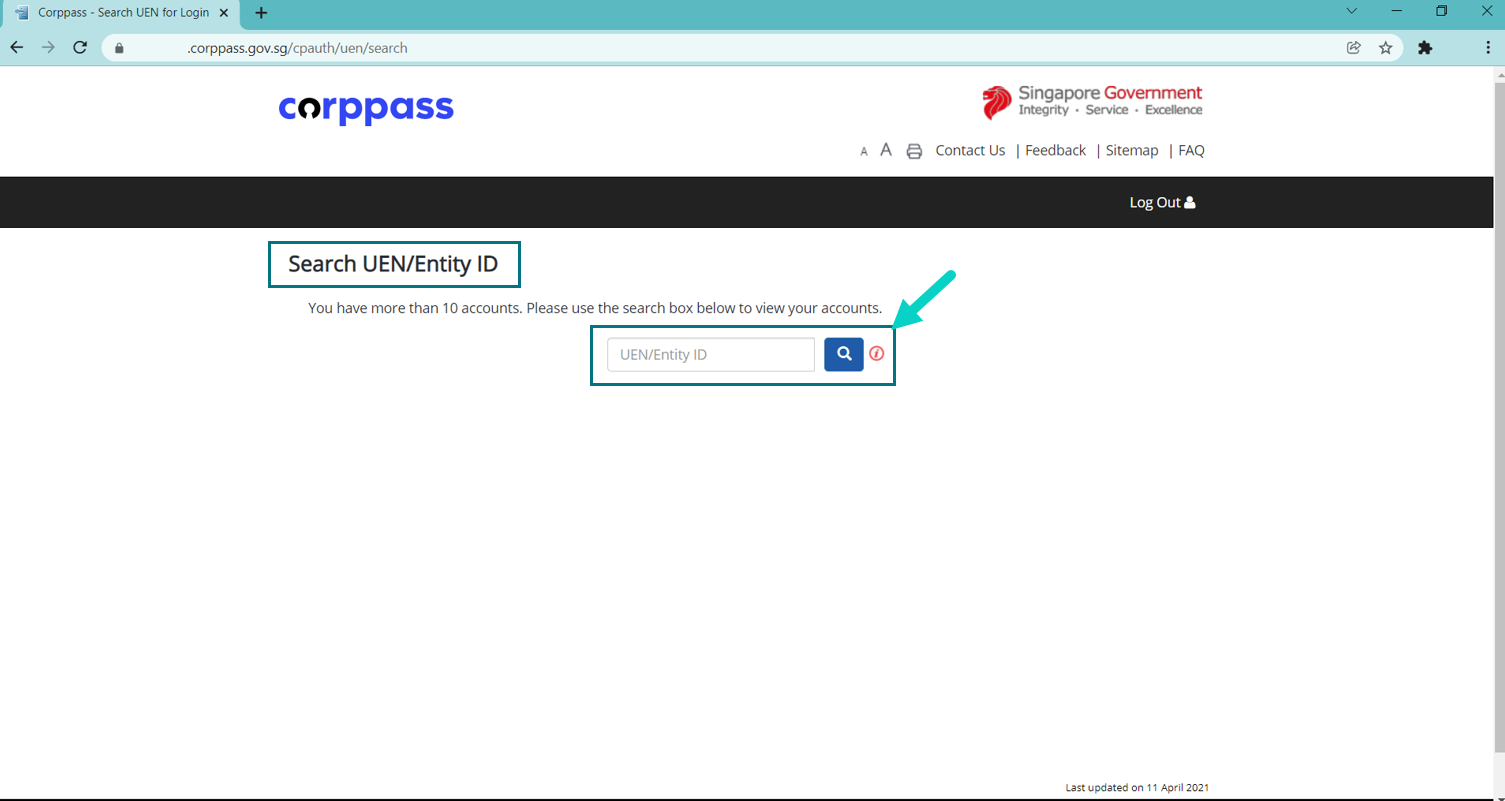 Step 8: Select your company at the result shown.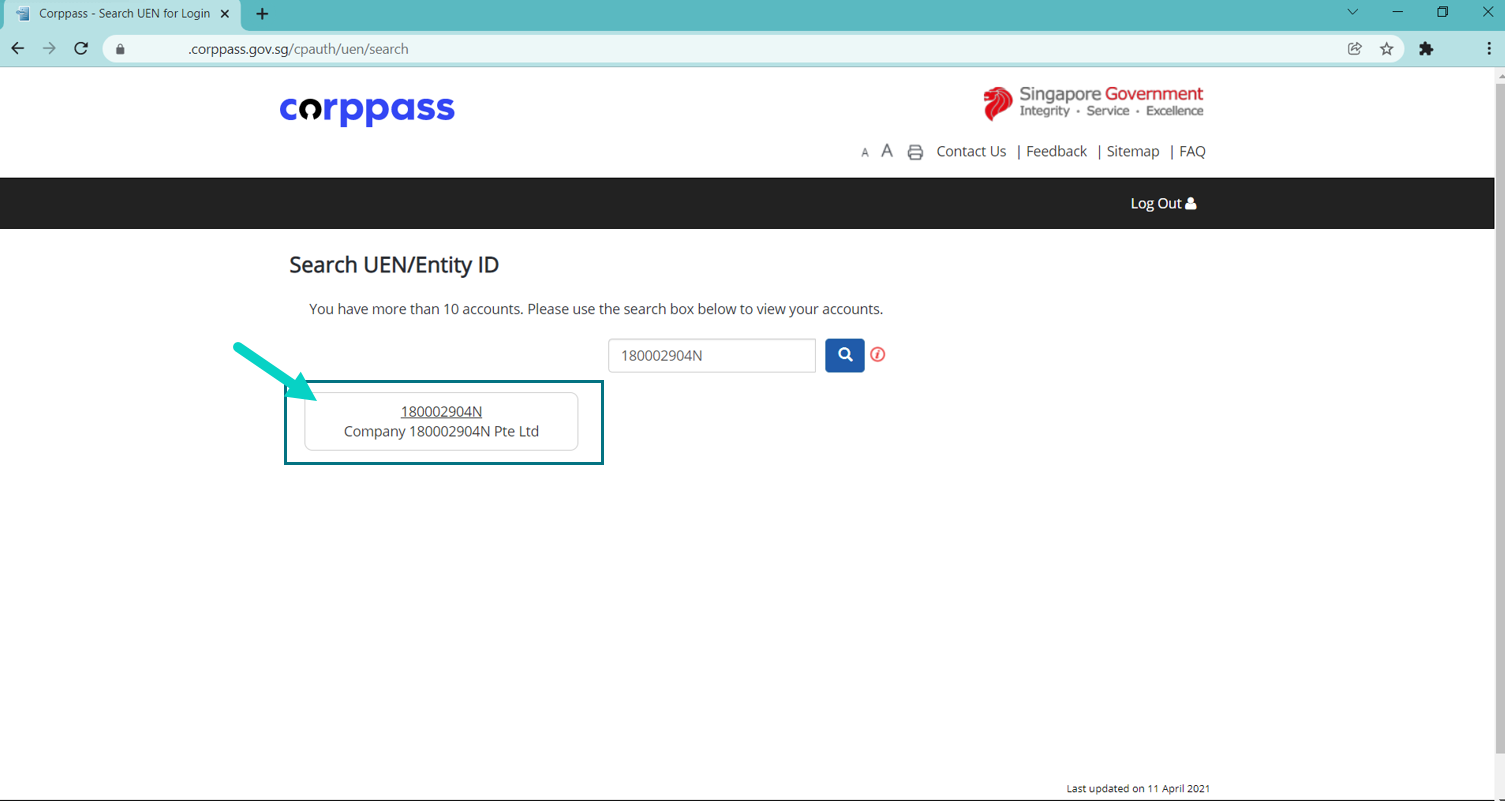 Step 9: Once you have read the permission required and agree. Click on "Allow".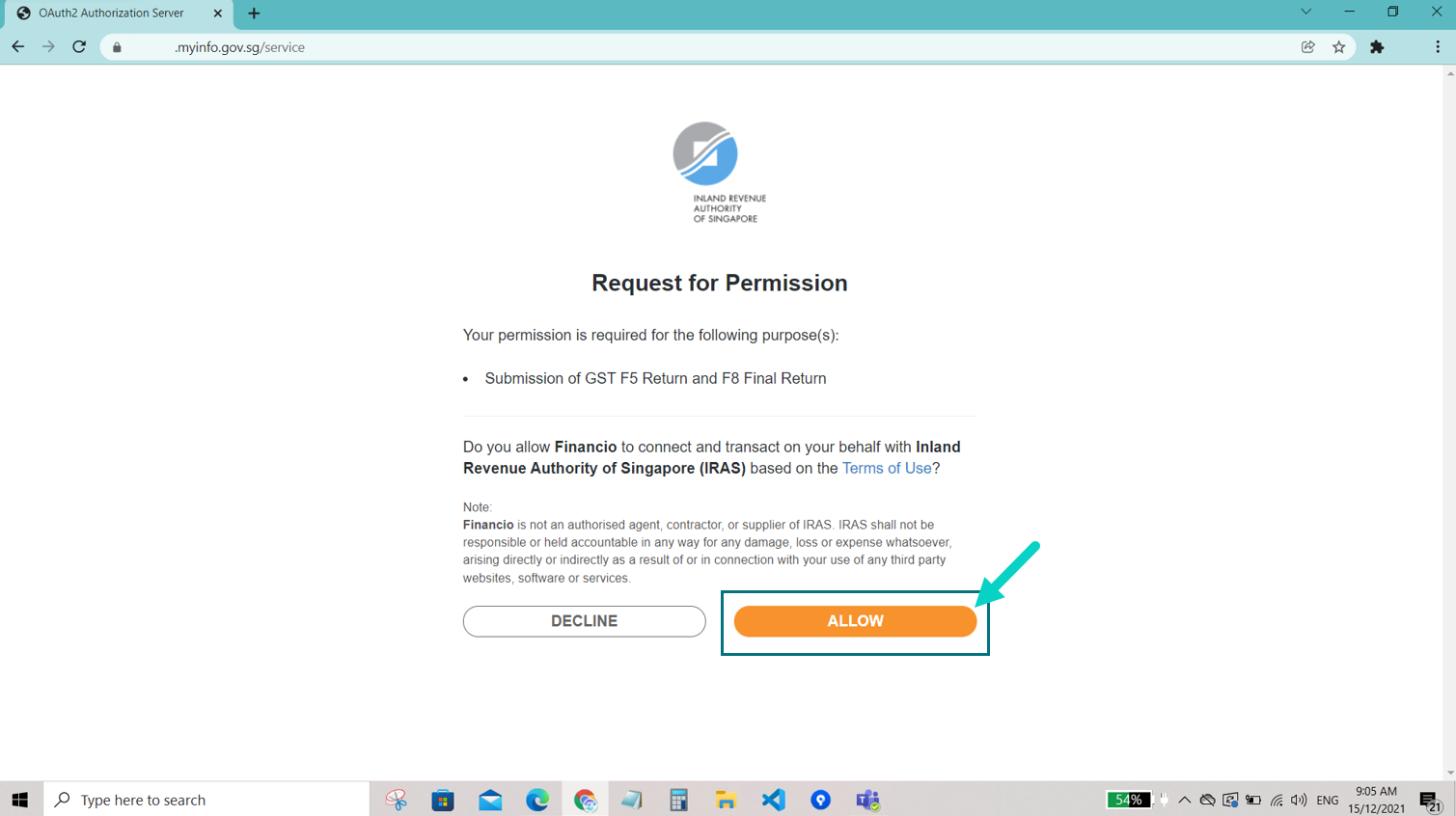 *The website will redirect back to Financio via our very own ABSS-connect function that has made this feature possible. Rest assured, your privacy and security is intact and our highest priority.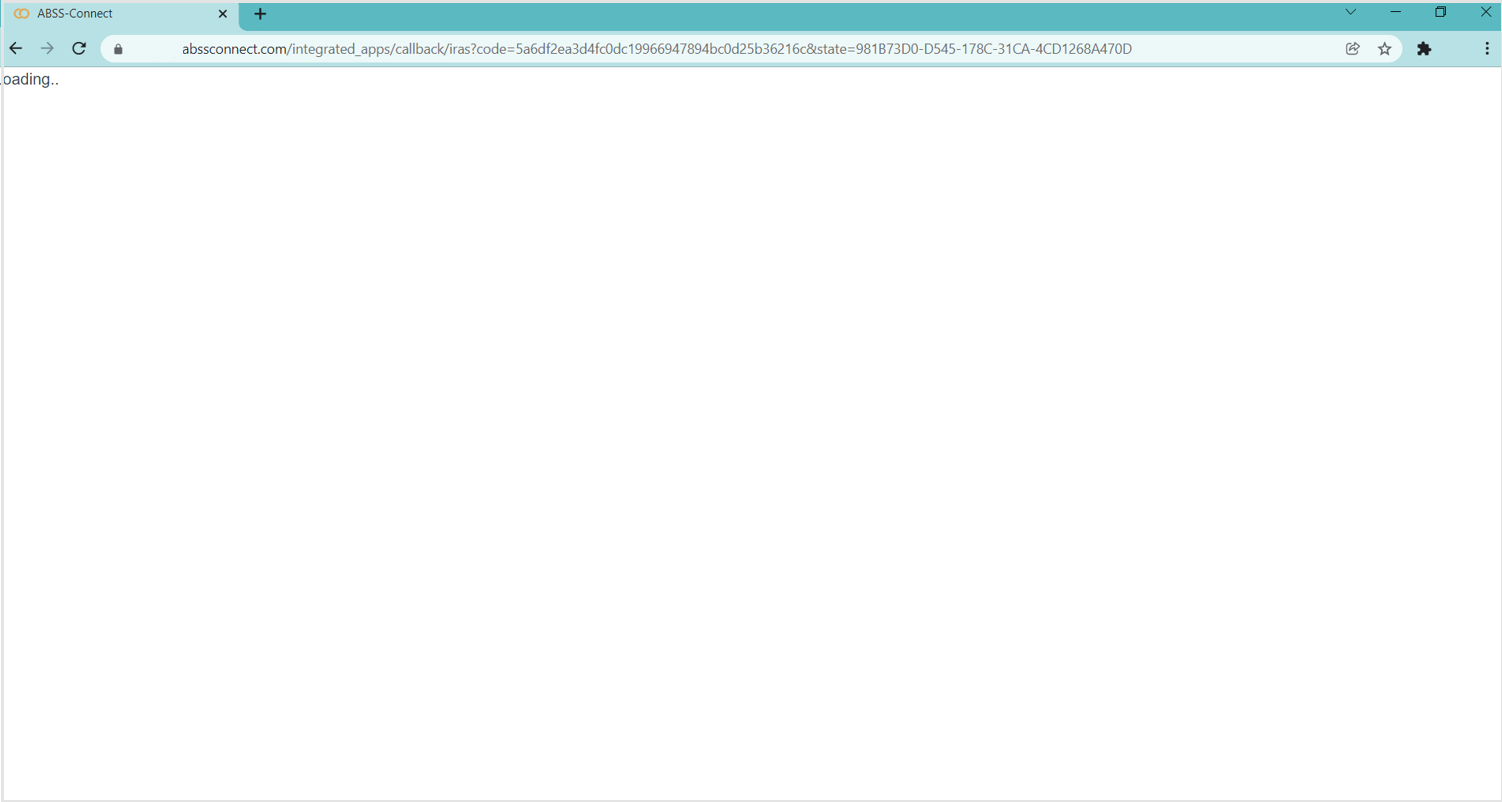 Once the page has been redirected, you would be presented with a submission history for review.