Release Notes 
Release Date: 1 May 2023
Release: 1.0
Introduction 
The document communicates the features and functions in this release of Financio Payroll.
Financio Payroll is a powerful cloud software solution designed to streamline payroll and HR processes for SMEs. With its user-friendly interface and mobile app, you can easily manage Payroll, employees' profile, attendance, leave, and claims. It prepares the necessary files to facilitate the salary payments via local banks and e-submission to local statutory boards. Financio Payroll ensures accuracy and compliance while providing you a secure and efficient payroll and HR management system. Read on to find out more.
1. Payroll
Financio Payroll streamlines all the essential pay run processes with its robust features, including Time Management, Leave Management, and Expense Claim Management. Financio Payroll gives you confidence in accurate salary calculations. Save time, reduce paperwork, and enjoy seamless e-payslip creation, easy tax submissions, and a comprehensive range of reports all in one place. Stay compliant with local legislation* effortlessly, and experience smooth salary transfers to your preferred local banks**.
*Local government employment regulations compliance:
SG: Central Provident Fund Board (CPFB), Inland Revenue Authority of Singapore (IRAS), Ministry of Manpower (MOM)
MY: Lembaga Hasil Dalam Negeri Malaysia (LHDN), Kumpulan Wang Simpanan Pekerja (KWSP), Social Security Organization (PERKESO), Human Resource Development Corporation (HRD Corp)
**Banking:
SG: HSBC, DBS (Interbank GIRO), UOB (Interbank GIRO), Maybank (APS+), OCBC (Outward Interbank GIRO), BNP Paribas
MY: CIMB, HSBC, Maybank, OCBC (Interbank GIRO), RHB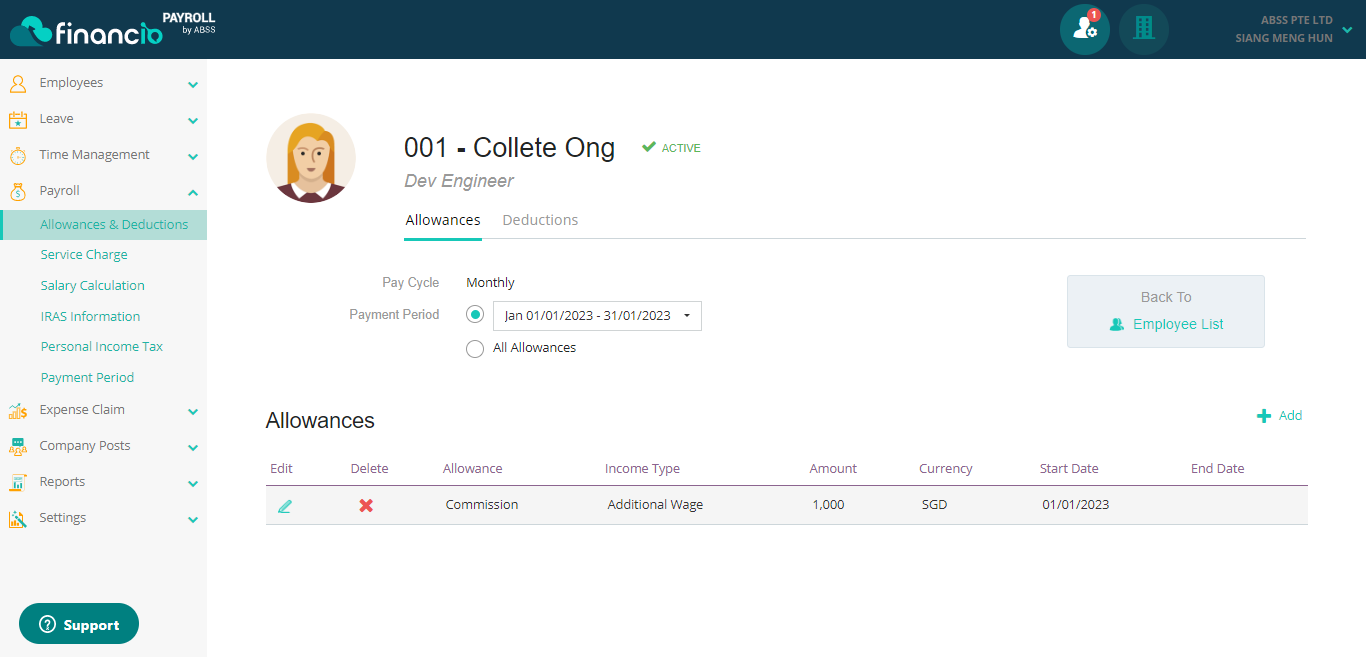 2. Employee Profiles
Employee profiles form the core of your HR practice in Financio Payroll. They contain comprehensive information about your employees, all in one place. The data are automatically synced with our reporting tool, making it easy to extract whenever needed. You'll find personal and contact information, salary and benefits details, contract, and more in the employee profiles. All information is stored securely in Financio Payroll's database, ensuring the privacy of personal data and only visible to those with the right permissions.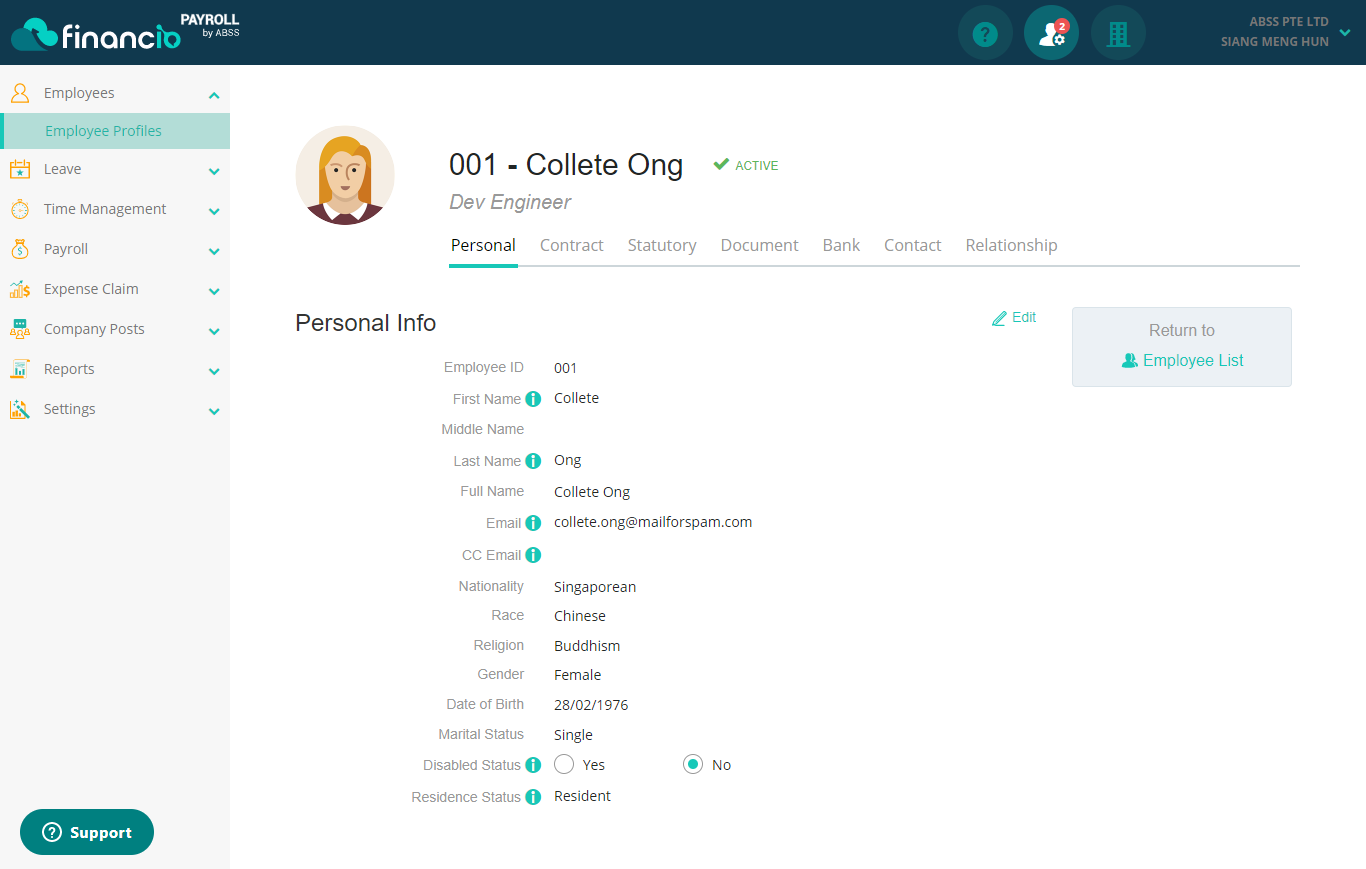 3. Employee Self-Service (ESS)
Empower your employees, increase productivity, and reduce errors with the Employee Self-Service (ESS) feature in Financio Payroll, designed with people in mind. Grant your employees access to their personal profile information, allowing them to retrieve or update their data whenever needed. They can even apply for leave, check remaining leave allocation, and view their pay slips online. With access to their own pay slips anywhere, anytime, there's no need for printing, making it convenient and environmentally friendly.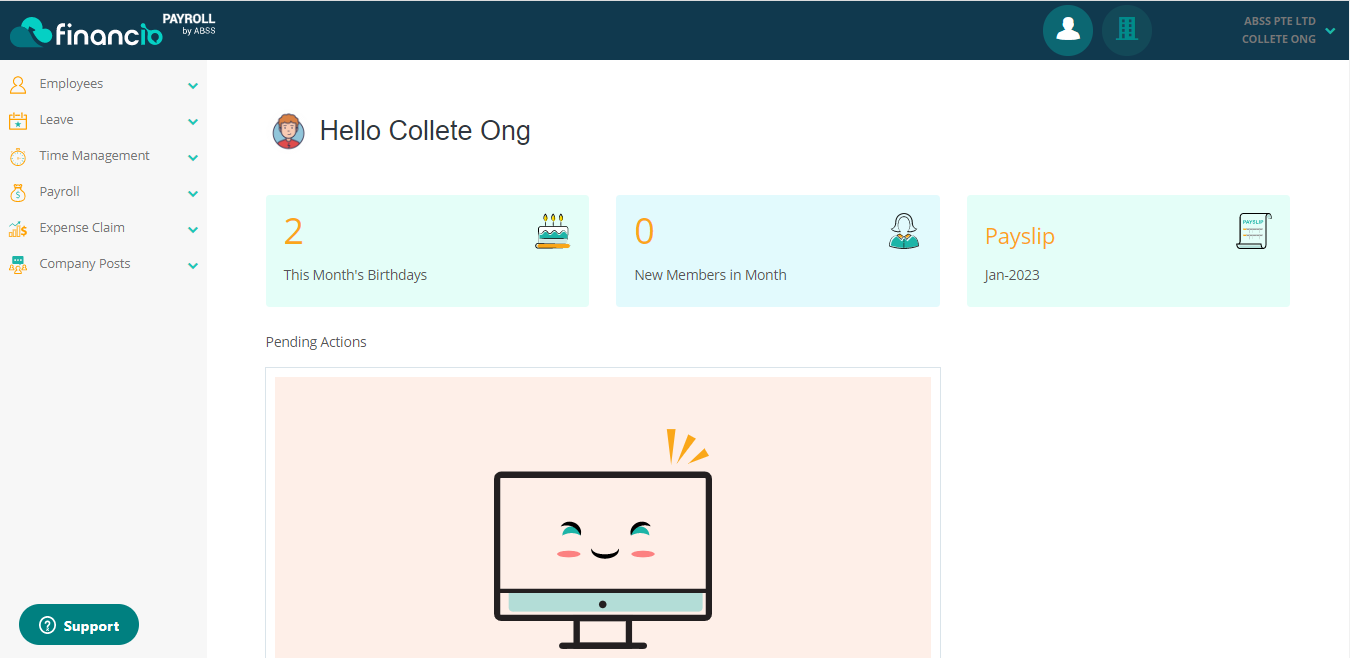 (Web App)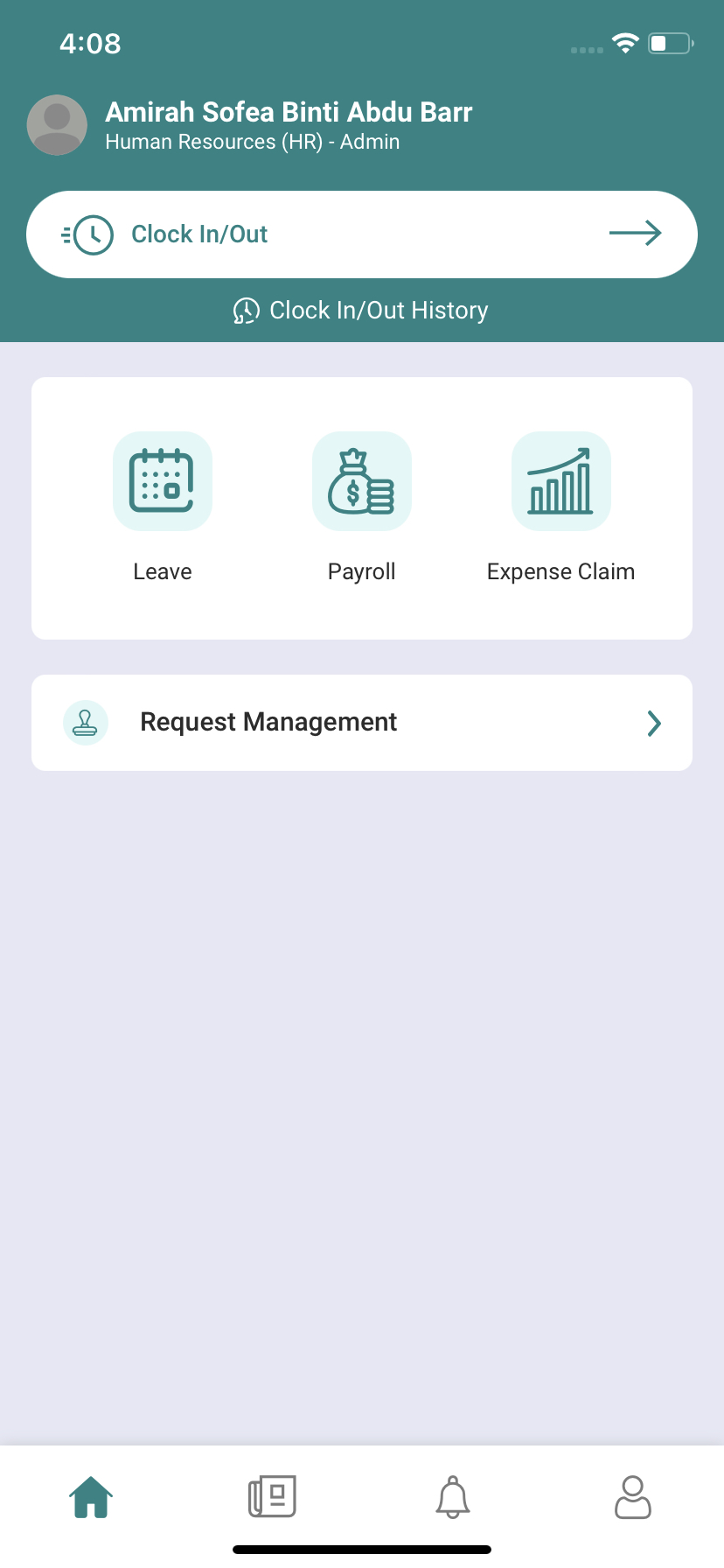 (Mobile App)
4. Time Management
The Time Management feature makes tracking attendance and rostering easier than ever. Employees can view their schedules and clock-in attendance with GPS location using our mobile app anytime, anywhere. Alternatively, timesheet data (from other hardware devices) can be imported from MS Excel file into Financio Payroll. This makes pay run processing simpler and more accurate. You can set up and configure multiple shift schedules for different groups of employees and even send in-app notifications to employees about shift changes and timing in advance. With just a few clicks, you can quickly generate daily time attendance report, making attendance management a breeze.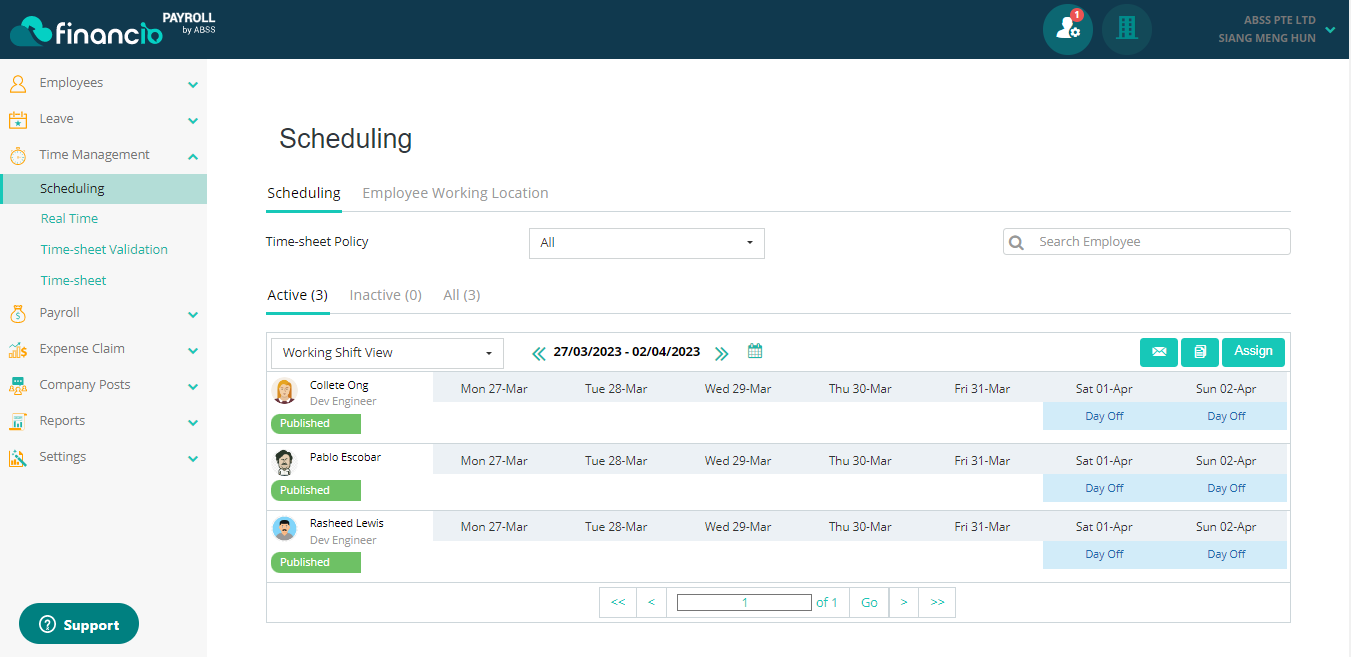 5. Leave Management
Financio Payroll Leave Management feature empowers employees to access their leave information and plan time off, even while on the go. Managers can easily approve leave applications autonomously using our mobile app, anytime, anywhere. Automated in-app notifications are sent to ensure prompt processing of leave requests. The Leave Management module seamlessly integrates with Payroll, providing accurate salary calculations. Additionally, public holidays can be easily integrated based on the country of operation. Leave policies can be customized based on entitlements and carry-forward options for unused leave to the following year.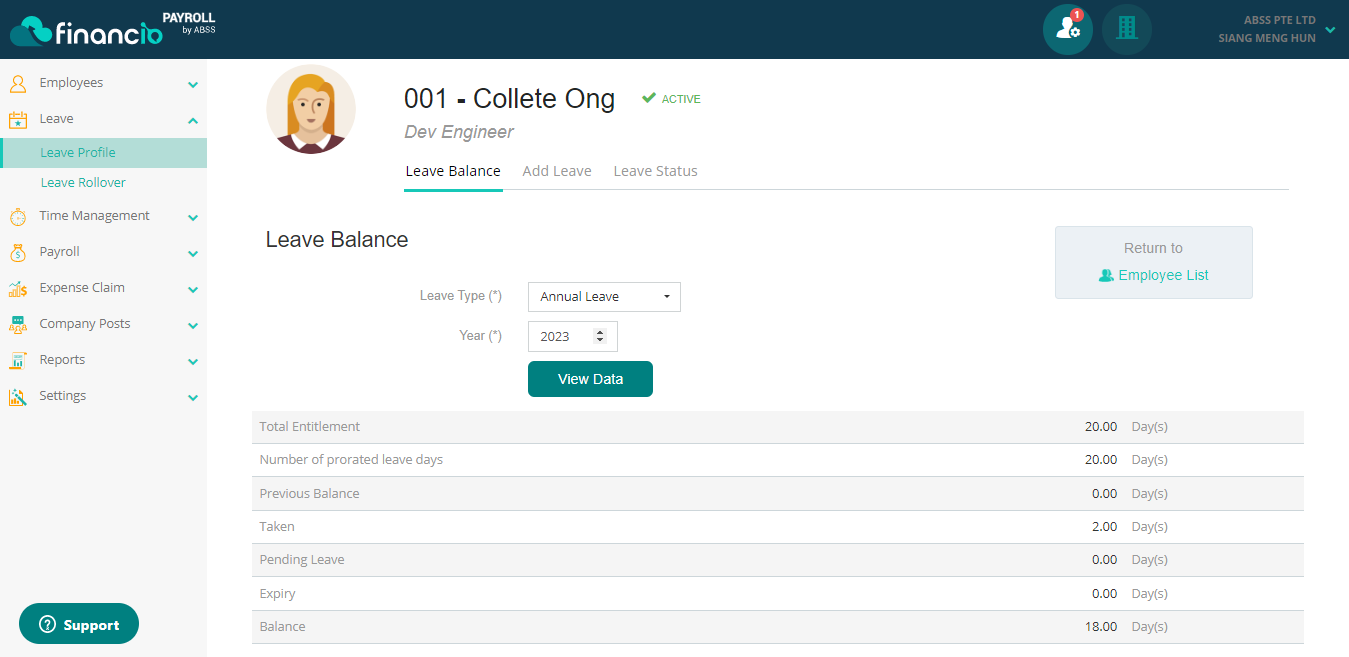 6. Expenses Claim
Are you tired of dealing with messy receipts? Financio Payroll offers a seamless, paperless solution for expense claim management. Just snap a photo of your receipt with your smartphone and easily submit your claim online via the web or mobile app. Approvers can conveniently review claim details and supporting documentation anytime, anywhere, via the mobile app. Integrated with Financio accounting software, Financio Payroll ensures seamless communication with your finance team.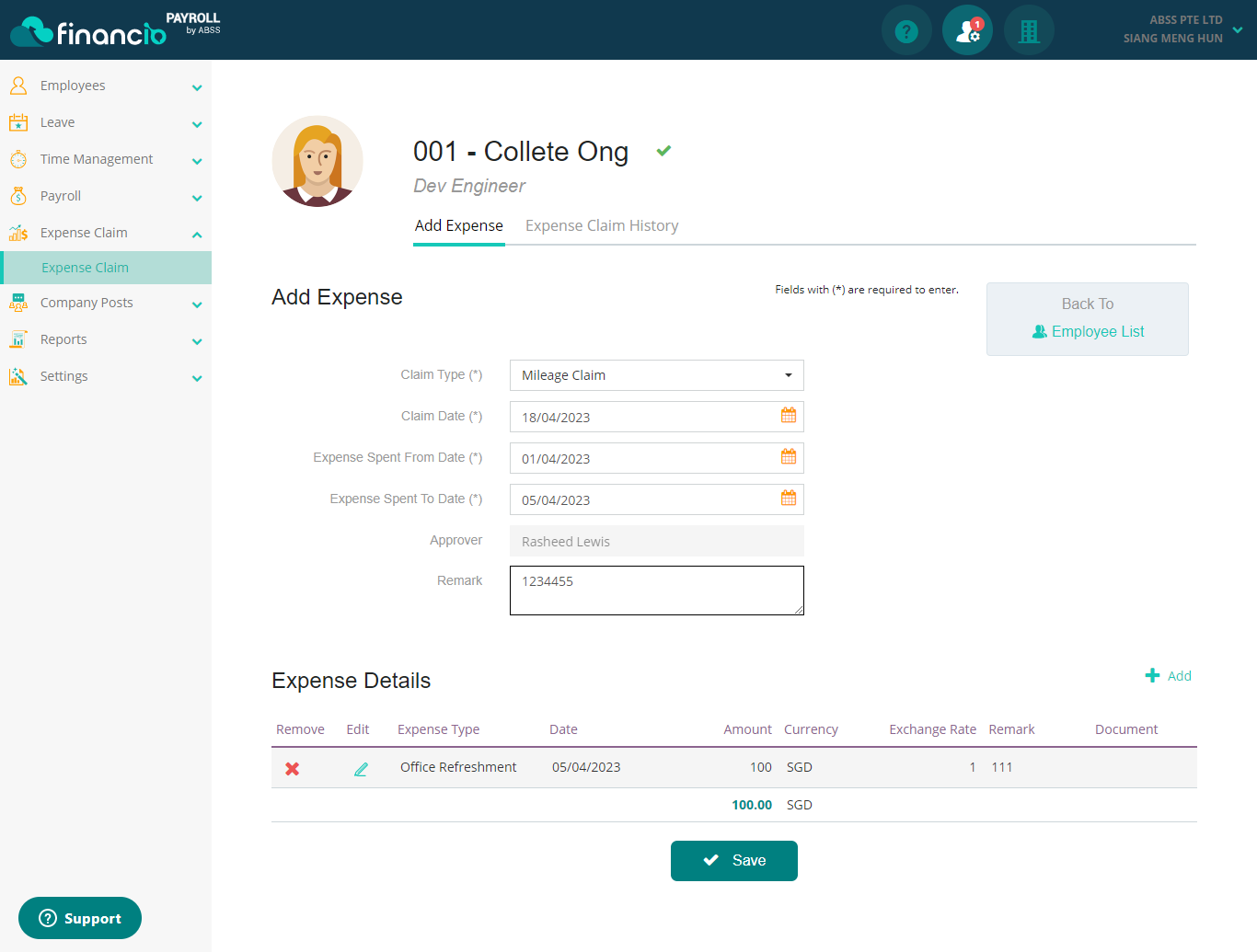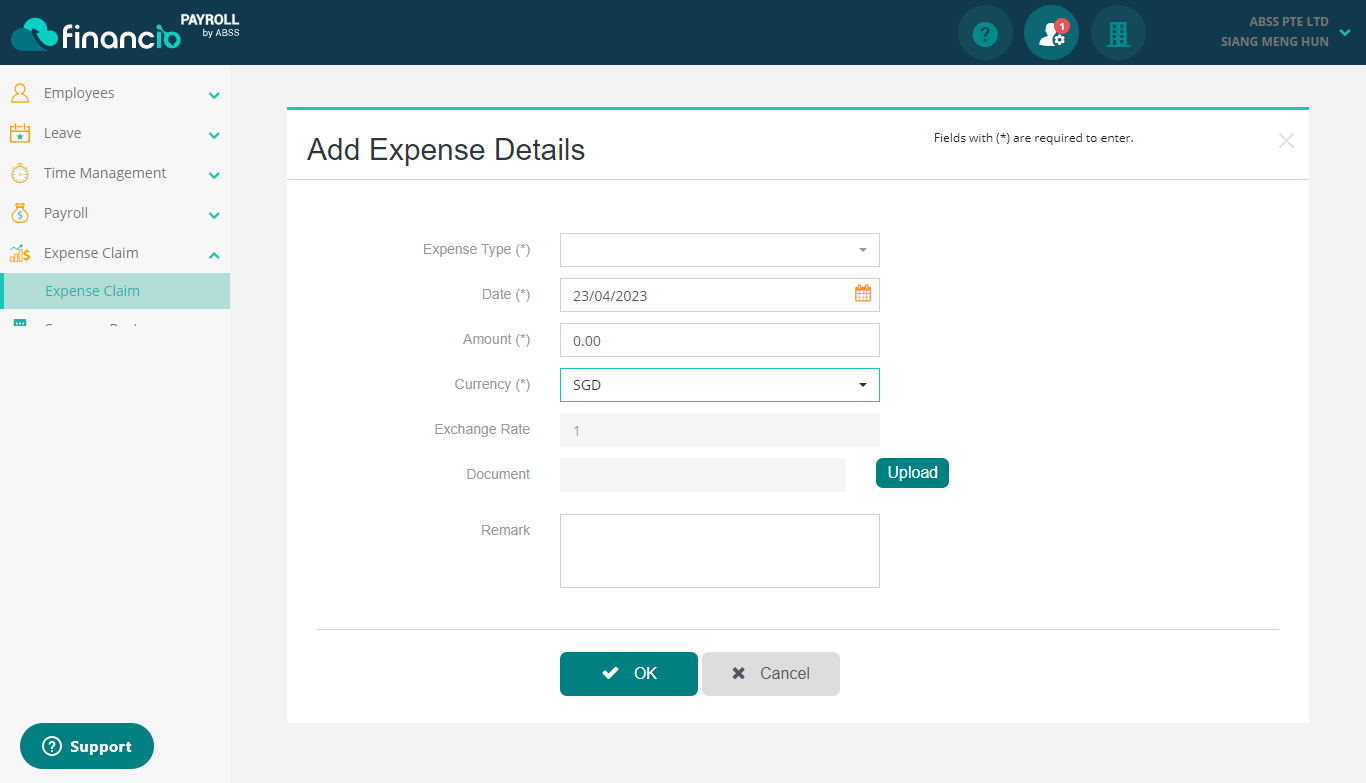 7. Service Charge
Do you own a cafe, restaurant, or hotel? Financio Payroll has a service charge calculation feature that's perfect for your business. Service charges are sometimes considered as employee incentives. With Financio Payroll, you can easily calculate the service charge per department and indicate whether the payment should be included in the month's Payroll. Accurate payment of service fees boosts employee morale and improves workforce satisfaction, particularly in the service industries.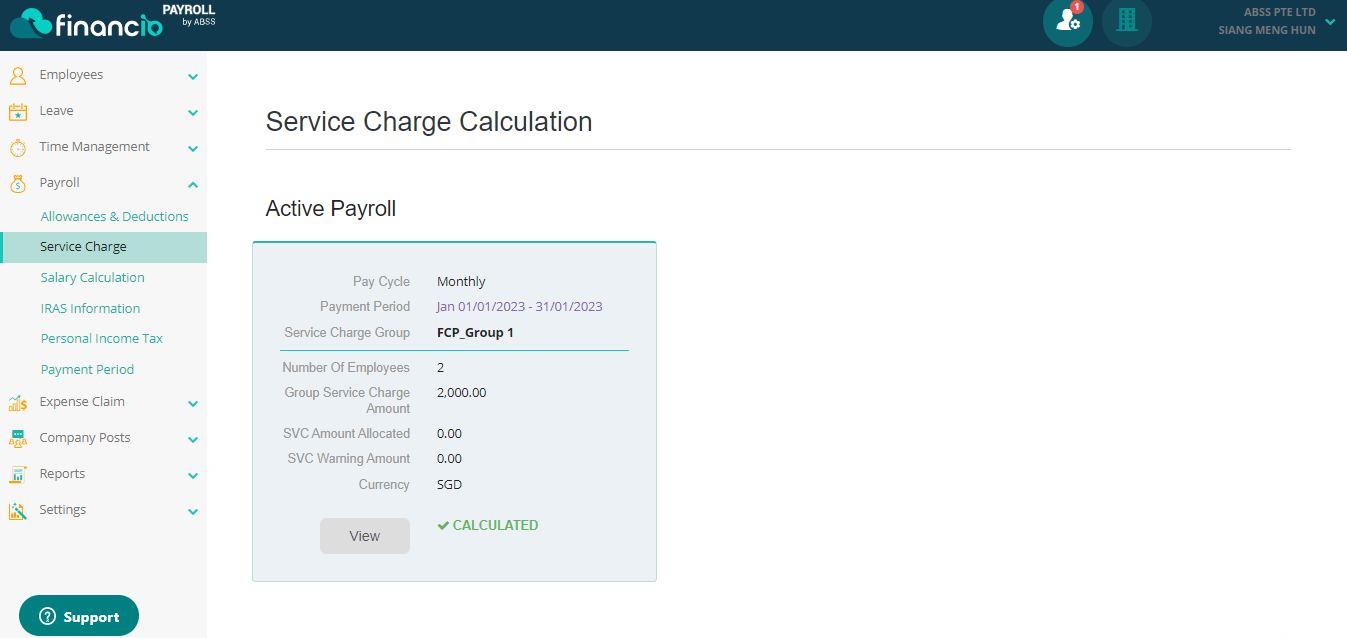 8. Multi-Currency
Financio Payroll offers multi-currency payroll processing, allowing your business to set up, track, manage, and perform all international payroll tasks from one secure portal. This feature is useful as exchange rate calculations and adjustments are made periodically, keeping your international payroll process and data up-to-date with currency rates. Simplify your global payroll management with Financio Payroll's multi-currency feature.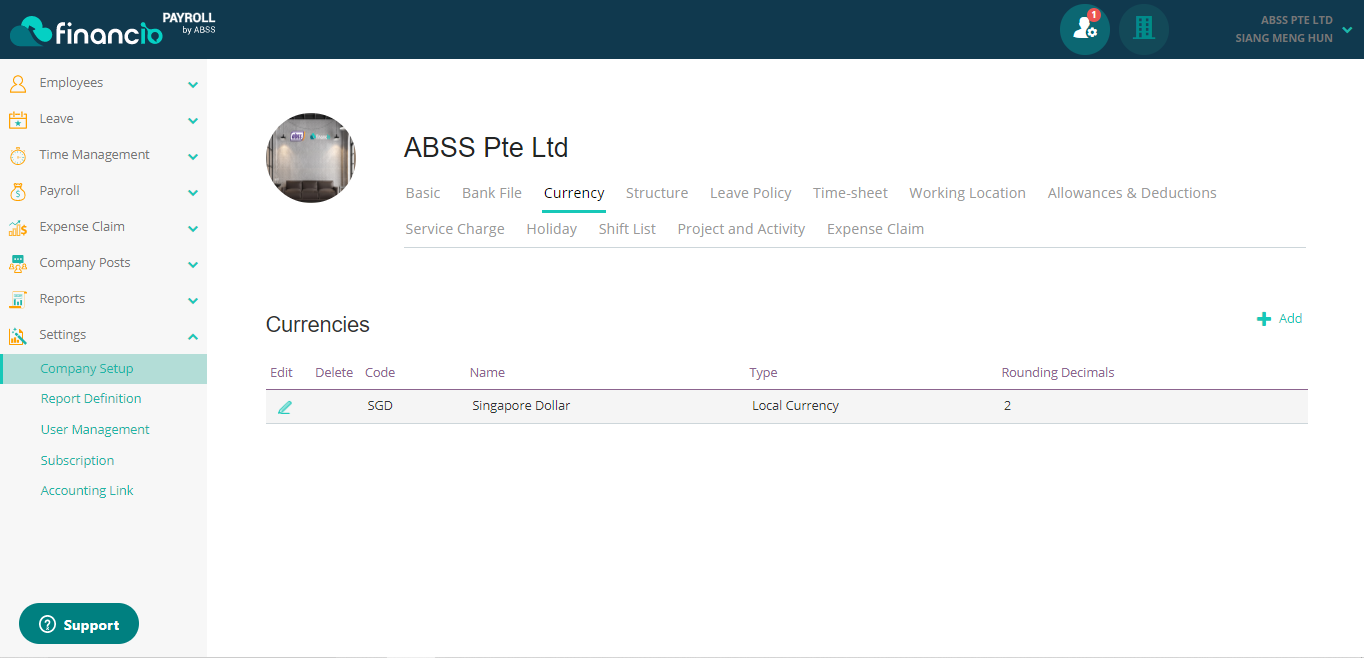 9. Accounting Integration
Once your payroll is done there are accounting entries to make. Financio Payroll seamlessly integrates with Financio accounting software. Once connected, data flow directly to the accounting software, eliminating the need for manual data entry.
For ABSS accounting software users, Financio Payroll will prepare the journal file to facilitates and speed up your journal entries into your book.