Note: If you're viewing on the support chat widget, we recommend you click the expand icon on the top right corner, for a better viewing experience.
E-transaction enables you to send a copy of your transactions automatically via email upon saving them (as approved) on Financio. By using this function, you no longer need to manually download your transactions in pdf and manually send them to your contact's email anymore.
Note: e-transaction is not similar to e-invoicing.
Here are the steps to set up the e-transaction on Financio.
On your Contact setup, enable the e-transaction toggle to Yes
Click Save

Note: Kindly ensure you have added your contact's valid email address so that they are able to receive the e-transactions from Financio.
Once the setup is done, you will be able to see the mail icon at your contact's name upon creating new transactions. This indicates the send e-transaction in 'On' for this contact.

When you have finished creating the transaction, click on the Save button to save it as approved. Instantly, a copy of the transaction that you saved will be sent to your contact via email.
From your end, you will be able to view the status of the e-transaction is:
i) Delivered - (Successfully sent to your contact email inbox)

ii) Viewed - (E-transaction has been viewed by your contact)

iii) Pending - (Pending as system captured error in the settings in the contact section that needs to be checked by the user, such as the e-transaction toggle has been deactivated)

iv) Failed - (E-transaction failed due to invalid email address)

From the recipient side, they will receive the e-transaction via email. Below is a sample of the email: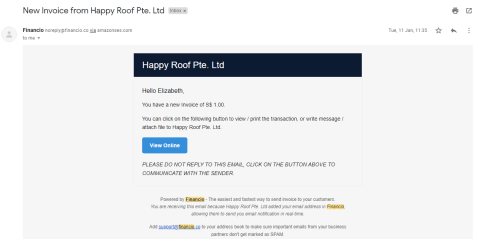 They are also able to click on the "View Online" button, to view the e-transaction as in the sample below.