Note: If you're viewing on the support chat widget, we recommend you click the expand icon on the top right corner, for a better viewing experience.
Peppol E-Invoicing is now known as InvoiceNow.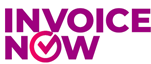 As announced by IMDA, Peppol E-Invoicing is now known as InvoiceNow. In line with the changes, we have made the necessary changes across all our new product's labelling and documents.
Available on Financio Premier only (Singapore).
How to register?
1. Navigate to Control Panel and click on Integrated Apps.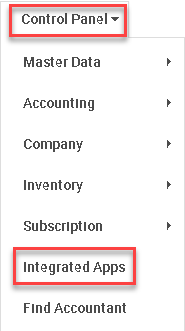 2. Head over to InvoiceNow and click on Register on the integrated apps page.

3. If you did not enter any UEN in your business profile, the error below will appear: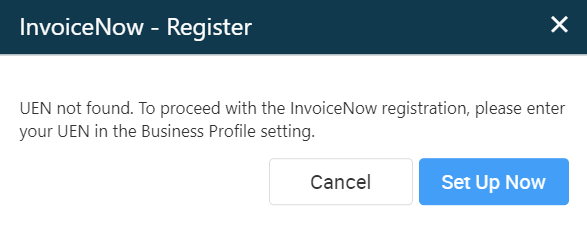 4. Click on setup now, > Business Profile tab created, > enter your valid UEN.

5. Then fill up the required information:
Address Line 1&2
City
Zip Code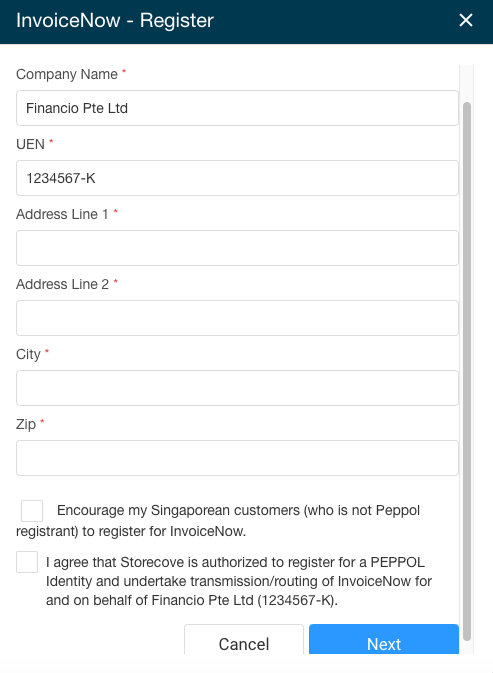 6. Proceed to Tick the first checkbox, which is optional and the consent checkbox, then click Next. Note: For more information about the first checkbox, please read this article: How to enable or disable InvoiceNow Registration QR Code and Link?
7. System will redirect to CorpPass. Please log in with your User ID and Password.
8. Once successful, it will redirect back to Financio, and you will see the new menu inside your InvoiceNow.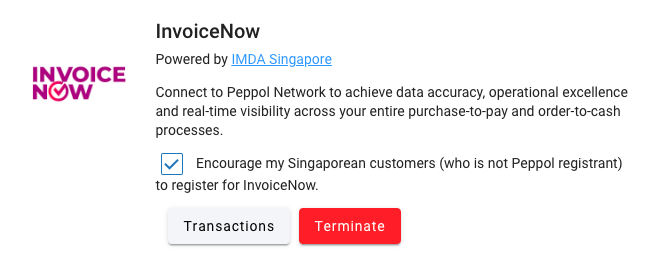 9. If the registration failed, you would receive the pop up as per the below screenshot. Kindly contact CorpPass if you received the registration failed pop up.