Note: If you're viewing on the support chat widget, we recommend you click the expand icon
on the top right corner, for better viewing experience.
This feature is available for Singapore paid users only.
Steps to setup E-Invoices
1. Key in your Vendor ID
Please ensure your vendor status is "Approved" after you've created the vendor record at Vendors@Gov. If you have multiple Vendor IDs, they must be tagged to your CorpPass Entity ID1. To enter the vendor ID, please go to Control Panel > Business Profile > Key in your Vendor ID in the Vendor ID field.

2. Enter your Email
The email address is required if you want to send or receive E-Invoices from a Government Agency. To enter the email address, please go to Control Panel > Business Profile > Key in your owner email address in the Email field.

3. Set up the contact
When submitting InvoiceNow E-Invoicing to Singapore Government Agencies via the network, please send the InvoiceNow E-Invoicing to the Endpoint ID of the Accountant-General's Department.
The Endpoint ID of the Accountant-General's Department is 0195:SGUENT08GA0028A.
To set up the contact, please go to Contacts > Create New
Once created the new Contact, the Peppol ID field will automatically be filled in if the UEN is Peppol registered. There is no need to manually enter the ID since Financio sync directly with the Peppol directory.
Enable the Send & Receive InvoiceNow for each contact you want to send and receive E-Invoices.

4. Update Business Unit
For Government Agency, the Business Unit field is required. To set up the Business Unit, navigate to the CONTACT PERSON section > enter the required information and select the related Business Unit.

How to send E-Invoices?
1. Create Invoice/Credit Note as usual in Financio.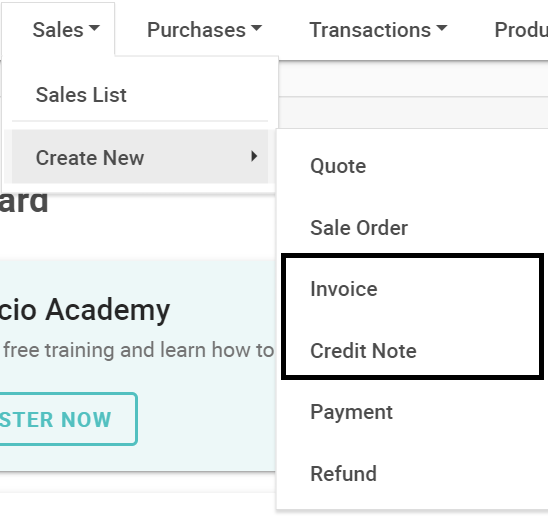 2. Users can check the status of the Invoice at the InvoiceNow tab once the E-Invoice is received by the recipient successfully.

How to receive E-invoices
1. Automated Process - Notification
E-Invoices will automatically sync to your Financio account every 10 minutes. The user will get a notification once the supplier sends them an E-Invoice.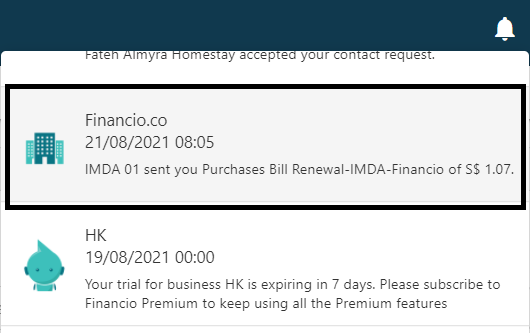 2. Reject/Accept
Once the user clicks on the notification, the supplier bill will be displayed. After verifying the details, the user has options to Void (reject) or Mark As Accepted.

Receiving supplier invoices will be displayed in Financio standard format.