Note: If you're viewing on the support chat widget, we recommend you click the expand icon
on the top right corner, for better viewing experience.
Workflows menu enables you to visualize the workflow of your day-to-day business transactions when you log in to Financio.
You can also easily move to a menu with just a single click through the workflow without the hassle of clicking on multiples places to get a tab open.
We have 5 primary modules on the workflows chart, which consists of:
Sales: Transactions related to business sales (to customers) and the sales report related to those transactions.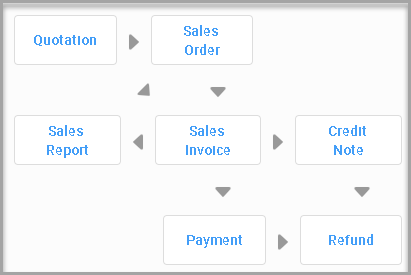 Purchase: Transactions related to business purchases (to supplier) and purchase report related to those transactions.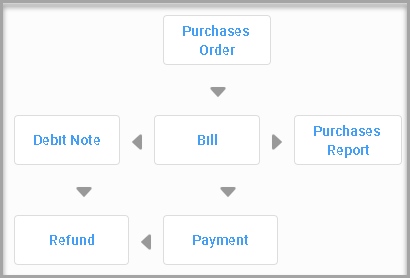 Banking: Includes miscellaneous transactions (related to business operation), payment receipt for sales and purchase, report (balance sheet report) and reconcile account (bank reconciliation report).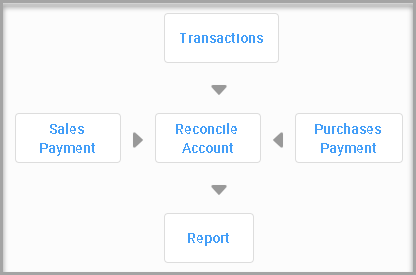 Inventory: Includes all the inventory-related settings and transactions modules such as Inventory Setting (Unit of Measurement Setting), Product & Service tab, Sale and Purchase module, Inventory Adjustment Setting and Inventory Summary Report.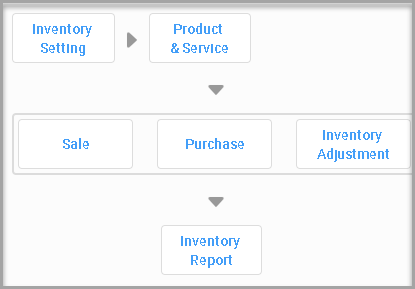 5. Tax: Modules and settings that include tax can be found here, such as tax setting, which enables and disable tax and the tax codes, sale, purchase and transactions modules, tax filing menu and the tax summary report.