Note: If you're viewing on the support chat widget, we recommend you click the expand icon on the top right corner, for better viewing experience.
Form Running Numbers
Running form numbers are crucial for tracking purposes and it also reduces risk of issuing multiple invoices, quotations, credit notes or bills for a single job.
By default, Financio provides the following prefix and running numbers. To update or amend the default prefix and running numbers, kindly follow the steps below:
Go to Control Panel > Company > Form Settings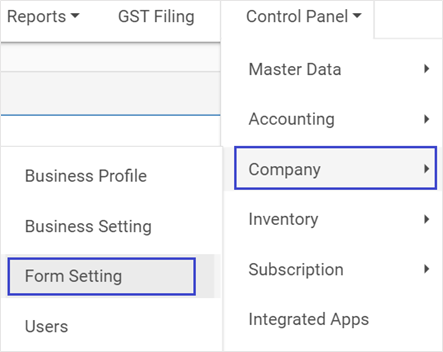 Form Settings tab created.

Click on Edit icon and update the Prefix and Running number.

Edit/Update the Prefix and Next running number.

Click Save.
Defaults Notes
Additional notes can be added to your quotations, invoices, payment receipts and more. Typically, business owners will include their banking information as well as payment instructions in the note section of the invoice.

Example:
Once you've entered your notes, here's how it will be displayed on your invoice.