Note: If you're viewing on the support chat widget, we recommend you click the expand icon on the top right corner, for better viewing experience.
If you are setting up SST at a later time (after your initial 6-steps business setup), you will find this article useful. It will guide you to activate the pre-configured Malaysian SST on Financio in just a few steps.
Click on the Control Panel > Master Data > Taxes

Taxes will be created in a new tab.

Click on Add New button.
Select SST from the dropdown list of the Type field.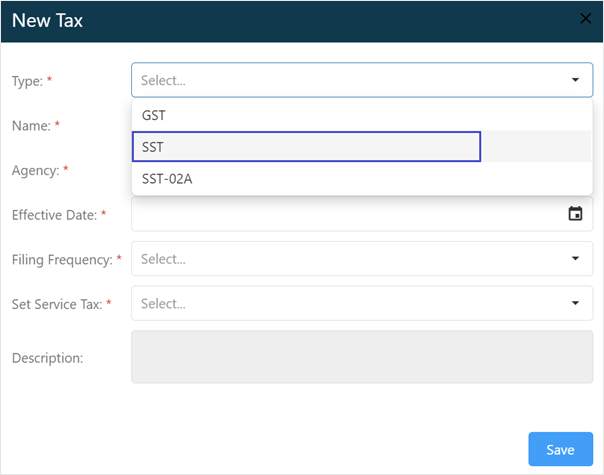 Select the Effective Date, when your business becomes tax registered and start collecting tax from your customers.

Tax Filing Frequency is set default as Every 2 Months.

Set your company Service Tax Basis:

Once completed, click Save.
SST FAQ
Version English
Sales Tax More >
Service Tax More >
Versi Bahasa Malaysia
Cukai Jualan More >
Cukai Perkhidmatan More >
Visit MySST for more information.